Our booth is designed to be a hub of innovation and knowledge. Attendees can explore our state-of-the-art solar products and energy storage solutions, including next-gen solar modules and advanced energy storage systems.

Q&A with | Canadian Solar
Tell us about your company.
Canadian Solar was founded in 2001 in Canada and is one of the world's largest solar technology and renewable energy companies. It is a leading manufacturer of solar photovoltaic modules, provider of solar energy and battery storage solutions, and developer of utility-scale solar power and battery storage projects with a geographically diversified pipeline in various stages of development. Over the past 22 years, Canadian Solar has successfully delivered around 94 GW of premium-quality solar photovoltaic modules to customers worldwide. Likewise, since entering the project development business in 2010, Canadian Solar has developed, built, and connected over 8.8 GWp in over 20 countries worldwide. Currently, the Company has approximately 609 MWp of projects in operation, 6.9 GWp of projects under construction or in backlog (late-stage), and an additional 17.7 GWp of projects in the advanced and early-stage pipeline. Canadian Solar is one of the most bankable companies in the solar and renewable energy industry, having been publicly listed on the NASDAQ since 2006. For additional information about the Company, follow Canadian Solar on LinkedIn or visit www.canadiansolar.com.
Your company will be exhibiting at RE+, what is it that makes this an important event for your company?
As a global leader in solar technology and renewable energy, this event offers us a platform to showcase our latest innovations, forge valuable partnerships, and engage in meaningful conversations with fellow industry pioneers. It's a unique opportunity to highlight our commitment to advancing renewable energy technologies and contributing to a more sustainable future.

What makes your booth a must visit for RE+ Attendees?
Our booth is designed to be a hub of innovation and knowledge. Attendees can explore our state-of-the-art solar products and energy storage solutions, including next-gen solar modules and advanced energy storage systems. Our team of experts will be on hand to provide in-depth insights into the latest trends, technologies, and best practices in the renewable energy field. We're excited to connect with attendees, answer their questions, and offer a glimpse into the future of solar+storage solutions.
We will be exhibiting in booth # 2516. Don't miss our Booth Party in September. 12th. Enjoy food, drink, giveaways, and a live DJ. Plus, you can see our newest products in person.
If you would like to book an appointment with our sales team ahead of time, please book your appointment here.
RE+ has many educational sessions, forums & Demo's, is your company involved in any of them this year?
This year, Canadian Solar is not involved in educational sessions or forums. However, when visiting our booth, our experts will be ready to lead discussions on several topics, such as solar module efficiency enhancements, new product lines, and the role of solar in achieving global sustainability goals. We're dedicated to sharing our knowledge and expertise to foster meaningful dialogues.
When you get a chance to walk the exhibit hall floor yourself, what is it you will be most interested to see? Any educational sessions, pavilions etc. you plan on attending?
As we explore the exhibit hall, we'll be particularly drawn to new products and attend sessions that explore the integration of products with our current portfolio, being able to expand and enhance our offering to the customer. The evolution of smart grids, advancements in energy storage technologies, and compatibility with our products are areas we're eager to learn more about. In summary, we're looking forward to visiting exhibits that focus on industry synergy, showcasing products which make installing and selling solar and storage easier.
Renewable Energy is undertaking rapid advancements, be it Solar Power, Energy Storage, or Smart Grid. Data and Automation is a huge part for many companies, give us an idea on how your company and product is utilizing advancements in data and automation.
As solar and renewables continue to be an ever-growing industry, at Canadian Solar, we recognize the transformative power of data and automation in the renewable energy landscape. Moreover, our solar+storage solutions are designed to be more responsive to real-time data from external sources like weather or the grid. For instance, our residential energy storage products are equipped with advanced monitoring and control systems that leverage real-time data to optimize energy production and consumption. Through predictive analytics we monitor weather changes and alert homeowners of predicted weather events, allowing them to conserve power for possible outages.
Give us your thoughts on what the future holds for the renewable Energy Industry.
The future of the renewable energy industry offers transformation and innovation. As we move forward in decarbonizing the economy, renewable sources have transitioned from niche alternatives to the forefront of mainstream energy production, and we find ourselves at a pivotal juncture in the global energy landscape. This shift has been driven not only by a growing environmental consciousness but also by the undeniable economic advantages that renewables offer. The once-held notion that green energy comes at a premium has been debunked, as these sources have now become some of the most economical and sustainable options available. However, as we journey toward a fully renewable energy world, energy storage solutions are a crucial and strategic piece of the puzzle. These storage technologies are poised to play a central role in stabilizing the intermittency inherent in renewable sources. Storage solutions enable a more reliable, adaptable, and responsive energy grid by effectively capturing and storing excess energy during peak production periods and releasing it during high demand. Furthermore, we see the energy market storage solutions becoming marketable as utilities develop the systems required to turn our generating and storage systems into real-time assets with market value assessment.
This symbiotic relationship between renewable generation and energy storage exemplifies a future where environmental stewardship and economic viability converge, ushering in unprecedented energy independence and sustainability.
The content & opinions in this article are the author's and do not necessarily represent the views of AltEnergyMag
Canadian Solar
Canadian Solar has our global headquarters and module factory in Guelph, Ontario Canada, where we were founded, as well as offices throughout the US and Canada. Our expert teams provide a full suite of solar solutions, modules, and inverters. As a single source, we simplify your access to solar with complete system solutions backed by Canadian Solar's global expertise and bankability. We are here to stay, continuing to provide long lasting, world class solar solutions for years to come.
Other Articles
With EP Cube, homeowners can work with their installer to determine the necessary capacity and purchase just the right number of modules to store power, from 9.9 kWh to 19.9 kWh, with a narrow gradient of only roughly 3.3 kWh.
In this webinar, you will learn the 8 reasons the CS6R-MS-HL is the right module for your residential customers. You will understand how its many qualities including high-load capabilities make it an easy and effective solution for your installations.
The recently launched large format modules have a direct impact on the balance of system (BOS) installation cost reductions sought after by these members of the PV system value chain.
---
Comments (0)
This post does not have any comments. Be the first to leave a comment below.
---
Post A Comment
You must be logged in before you can post a comment. Login now.
Featured Product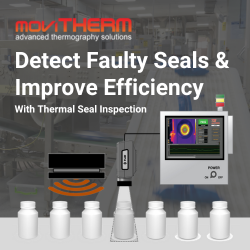 MoviTHERM's Thermal Seal Inspection (TSI) solution provides precise and reliable detection of defects in a variety of packaging types, including pouches, bags, blister packs, bottle caps, and more. By detecting defects in your packages, the TSI solution helps increase efficiency in your production line and ensures top-quality packaging is delivered to your customers every time. With state-of-the-art technology and an experienced team, MoviTHERM is dedicated to delivering accurate inspection solutions and peace of mind to its clients. Contact MoviTHERM today to learn more about their thermal seal inspection solution.