This showcase underscored BatteroTech's robust capabilities and ambition in the global battery and automotive sectors.
From September 12-14, 2023, Solar Power International (RE+2023) took center stage at the Venetian Convention and Expo Center in Las Vegas. At this premier event, BatteroTech Co., Ltd. (BatteroTech) unveiled its latest 53Ah battery cell and the flagship 314Ah battery cell, accompanied by cutting-edge energy storage solutions including the BTL Liquid cooling outdoor cabinet. This showcase underscored BatteroTech's robust capabilities and ambition in the global battery and automotive sectors.

Precision energy management, streamlining the operational costs of storage systems
The 314Ah high-capacity battery cell showcased at the event garnered significant acclaim from attendees. Following the footsteps of the 280Ah and 306Ah cells, this release from BatteroTech represents the latest advancement in energy storage technology, blending enhanced energy density, prolonged cycle life, and superior safety features. While building on the legacy of its predecessors, it offers improved energy retention and extended longevity. A standout feature is its precision energy management, which streamlines the operational costs of storage systems. It's the flagship battery offering from BatteroTech.
To cater to a broader segment of the market, BatteroTech's 314Ah battery cell has earned certifications from several authoritative industry bodies, securing the UN38.3, UL1973, UL9540A, and IEC62619 accreditations. These attest to the battery's compliance with industry benchmarks for performance, safety, and reliability, reinforcing its position as an industry-leading solution.
53Ah Battery Cell: Addressing Multifaceted Market Needs with Enhanced Longevity and Production Efficiency
At the showcase, BatteroTech unveiled its 53Ah LFP battery cell, designed for applications ranging from residential energy storage to UPS systems. Leveraging advanced materials, the life cycles of both the 53Ah LFP and 65Ah LFP cells have been optimized, delivering over 6000 cycles at ambient temperatures and surpassing 3000 cycles under 1C/6C charge-discharge regimes. These cells are projected to serve household needs for a decade or more. With refinements in battery fabrication techniques and capacity scaling, these cells are now geared for mass production, yielding substantial cost savings. The adoption of the CTP assembly process further amplifies production efficiency, paving the way for more cost-effective and streamlined battery manufacturing.
The introduction of BatteroTech's 53Ah high-capacity battery cell not only bolsters its competitive edge in the market but also revitalizes the global energy storage landscape.
Determined Expansion: BatteroTech Strategically Navigates the Global Market at RE+2023
At the RE+2023 exhibition, BatteroTech embarked on a renewed mission to expand its footprint in the North American battery market. Leveraging its cutting-edge technology, product suite, and strategic market channels, the company aims to further energize the North American energy storage sector. Looking ahead, BatteroTech is poised to refine its industry leadership. The firm is steadfast in its commitment to drive R&D, elevate product quality and efficiency, and sharpen its competitive edge. Additionally, they're dedicated to delivering a holistic service experience to their global clientele, encompassing top-tier products, innovative technologies, and robust after-sales support, all while championing the sustainable shift toward green and low-carbon energy solutions.
About BatteroTech:
BatteroTech Co., Ltd. is a world leading lithium-ion battery manufacturer dedicated in the new energy industry which invested by Tsingshan Holding Group Co., Ltd. (a Fortune 500 corporation).
BatteroTech has products from Li-ion battery cell, battery modules, battery systems, etc. with strong expertise of R&D, production know-how in house. BatteroTech offers the cutting-edge solutions and first-class services for the new energy automobile manufacturers and smart energy investors globally, which support them to achieve the goal of "Carbon Peaking Emission and Carbon Neutrality".
Featured Product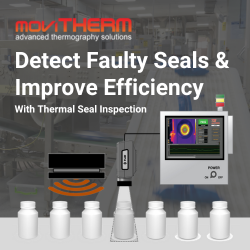 MoviTHERM's Thermal Seal Inspection (TSI) solution provides precise and reliable detection of defects in a variety of packaging types, including pouches, bags, blister packs, bottle caps, and more. By detecting defects in your packages, the TSI solution helps increase efficiency in your production line and ensures top-quality packaging is delivered to your customers every time. With state-of-the-art technology and an experienced team, MoviTHERM is dedicated to delivering accurate inspection solutions and peace of mind to its clients. Contact MoviTHERM today to learn more about their thermal seal inspection solution.