Jan. 8, 2003--Evergreen Solar, Inc. today announced the installation of a 9 kW photovoltaic (PV) system at the White House for the National Park Service.
Jan. 8, 2003--Evergreen Solar, Inc. (Nasdaq: ESLR) today announced the installation of a 9 kW photovoltaic (PV) system at the White House for the National Park Service.

The new solar roof in Washington, D.C. is the first solar electric project on the White House grounds.
James Doherty, the architect and project manager at the National Park Service Office for White House Liaison, said, "We believe in these technologies, and they've been working for us very successfully. The National Park Service as a whole has long been interested in both sustainable design and renewable energy sources. We also have a mission to lower our energy consumption at all our sites, and we saw an opportunity to do both at the White House grounds."
"The Park Service is supporting the use of clean, renewable energy from the sun by overseeing this installation. It's an important milestone in building awareness for solar energy usage in residential and commercial buildings, and a step in the right direction in promoting energy independence," said Steven J. Strong, President of Solar Design Associates and an internationally noted solar advocate. "Sustainable, environmentally responsive solar electric systems have been in use from Maine to California for three decades, but there is something special about an installation at 1600 Pennsylvania Avenue."
Solar Design Associates designed and oversaw the installation, which was placed on the roof of the main building used for White House grounds maintenance. The PV system directly feeds solar-generated power into the White House grounds' distribution system, providing electricity wherever it is needed. Two solar thermal systems, one to heat the pool and spa and one to provide domestic hot water, were also installed.
The grid-tied PV system consists of 167 solar panels manufactured by Evergreen Solar that cover the roof of the maintenance facility. The entire system installation was completed over a three-day period and includes a data acquisition system for monitoring the performance of the array and its ancillary electronic components.
Solar Design Associates selected Evergreen Solar to supply the PV panels for the project due to the superior quality of the panels and the fact that they were made in America. Mr. Strong remarked, "Evergreen Solar is the classic, home-grown success story, where a small group of dedicated individuals, starting from modest beginnings in a 'garage,' proved the commercial viability of their technology, and subsequently have become a significant player in the global solar market."
"We are very pleased to see this kind of governmental support for solar electricity. Evergreen Solar's panels were chosen for this installation by Steven Strong, one of the world's most respected solar designers and a true pioneer in the industry," commented Mark A. Farber, President and Chief Executive Officer of Evergreen Solar. "We hope the success of this project will spur future applications of highly reliable, pollution-free solar power. Whether it is on a single residence or a commercial building, solar electricity is an important option in the quest for energy independence."
About Evergreen Solar, Inc.
Evergreen Solar, Inc. (www.evergreensolar.com) develops, manufactures, and markets solar power products utilizing the Company's patented solar power technologies. The products provide reliable and environmentally clean electric power in global markets. Solar power applications include wireless power for remote homes, water pumping, lighting, and rural electrification, as well as complete power systems for electric utility customers choosing to generate their own environmentally benign power.
Featured Product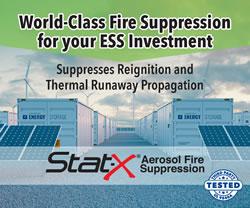 Stat-X® Condensed Aerosol Fire Suppression is a solution for energy storage systems (ESS) and battery energy storage systems (BESS) applications. This includes in-building, containerized, and in-cabinet applications. The Stat-X product was tested for efficacy in putting out Li-ion battery fires. It was found that the Stat-X agent successfully extinguished single and double cell battery fires. This testing was conducted in parallel with a large battery fire testing program. DNV GL Energy conducted the testing and validated effectiveness of the Stat-X aerosol agent on cell level Li-ion battery fires.