Metallic Power, the leading developer of zinc regenerative fuel cells, and the Outside Plant, Power & Services group of Marconi Corporation plc (London: MONI) announced today a partnership to provide innovative zinc-based fuel cell backup power sources.
Carlsbad, Calif. and Cleveland, Ohio — May 22, 2003 — Metallic Power, the leading developer of zinc regenerative fuel cells, and the Outside Plant, Power & Services group of Marconi Corporation plc (London: MONI) announced today a partnership to provide innovative zinc-based fuel cell backup power sources. Under the terms of the reseller agreement, Marconi will use Metallic Power's zinc fuel cells in a variety of applications in the telecommunications industry. Marconi is among the market leaders in providing integrated and turnkey outside plant, power and services equipment to telecom operators in North America. Under the terms of the agreement, Marconi will place an order with Metallic Power in what is believed to be the largest one ever placed for fuel cells used in telecommunications back-up applications.

Marconi will also combine Metallic Power's unique regenerative fuel cells and Marconi's widely accepted enclosures together with DC power supplies developed by Marconi's Power division to provide a robust, long-lasting backup power solution for its customers. These turnkey power systems will provide alternative and redundant power backup to the wireless and wireline telecoms industry in the U.S., Canada and Mexico. As part of the agreement, Marconi will provide system installation and maintenance through their Services group.
"Backup power applications are an excellent match for Metallic Power's zinc fuel cell technology," stated Dr. Jeffrey Colborn, Metallic Power's CEO and chairman. "Zinc fuel cells are well suited for customers who need extended run capability in areas where generator noise or emissions are unacceptable, government permitting is an issue, or where limited access hampers refueling or dispatching a generator. Compared to most backup and alternative energy solutions, zinc fuel cells are cost competitive at installation, lower in cost of ownership, provide 24/7 backup, and are environmentally friendly. We're extremely pleased to be partnering with Marconi, an industry leader, to bring these benefits of our zinc fuel cells to the telecommunications industry."
Marconi has partnered with Metallic Power as part of its effort to provide turnkey power solutions and services to its telecom customers that include the major exchange carriers and wireless service providers. "The growing need for alternative power sources has placed a major responsibility on both the telecom industry and the power technology suppliers," said Steve McKinney, vice president, sales & marketing for the Marconi Outside Plant Power & Services group. "Marconi has an important interest in assuring that the industry has the power it needs. We are committed to working closely with Metallic Power to put these new products to work through our installation and service infrastructure."
About Metallic Power
Metallic Power Inc., founded in 1995 and based in Carlsbad, Calif. near San Diego, is the leader in developing zinc regenerative fuel cell-based products. These power sources use recyclable zinc fuel to provide a cost-effective substitute for lead-acid batteries and a quiet, emission-free alternative to internal combustion engines. The first targeted applications will include extended backup power for computing, communications and control equipment. Future projects include portable power, peak shaving, auxiliary power for trucks, RVs and boats, and primary power for transportation. Compared to other fuel cell technologies, Metallic Power's zinc fuel cell technology does not require an expensive high pressure or high temperature internal operating environment and it uses zinc, one of the Earth's most abundant elements. Metallic Power believes that, because of the system's fundamental simplicity, it will offer a safer, more cost-effective approach to renewable energy. For more information, visit www.metallicpower.com.
About Marconi Corporation plc
Marconi Corporation plc is a global telecommunications equipment, services and solutions company. The company's core business is the provision of innovative and reliable optical networks, broadband routing and switching and broadband access technologies and services. The company's customer base includes many of the world's largest telecommunications operators.
Featured Product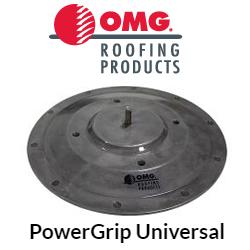 Eliminate Solar Rack Ballast and Reduce Rooftop Material Handling. PowerGrip™ Universal (PGU) is a commercial roof mount system designed to secure solar racks and other equipment to any type of commercial roofing system. PGU provides a secure connection directly to the roof deck or structural members and is designed to reduce or eliminate ballast in solar racking systems, so there's less weight on the roof and less material handling. Made of heavy-duty cast aluminum, PGU units include a base ring which is secured through the roofing cover and into the structural roof deck, and a waterproof top plate.