December 4-6 in Las Vegas ... designed specifically for ... and open to all renewable energy dealers and installers in North America.
Energy Outfitters, a nationwide renewable energy products distributor, will host a Tech Conference and RE Expo on December 4-6 in Las Vegas designed specifically for -- and open to all renewable energy dealers and installers in North America.

"Our customers and other dealers have told us they want a special event dedicated to RE dealer/installers," said Bob Maynard, President of Energy Outfitters. "So, we've created an event where they can network with each other, gain product knowledge and important technical training from manufacturers."
Maynard said that Energy Outfitters is creating an event for RE professionals with 18 manufacturers where dealers/installers will have an opportunity to meet face-to-face with industry leading manufacturers and gain important hands-on technical training.
Solar and wind energy technologies from 18 different manufacturers will be featured in the exhibit area to present the latest in new products, product demonstrations, and efficient installation techniques. Keynote speakers from North American Board of Certified Energy Practitioners (NABCEP) and Solar Energy Industries Association (SEIA) will address their comprehensive view of the future for renewable energy businesses.
According to Gord Petroski, Energy Outfitters' Director of Sales, "Our industry needed an event where dealers can meet to talk amongst themselves and the leading manufacturers about key industry issues. We think the Expo offers a great format to help dealers and installers knowledgeably grow their businesses."
"Many new products from both existing and new manufacturers will be launched at the Expo," said Petroski. Participants will see the latest in inverters, PV modules, PV mounting systems, integrated power panels systems and other products which can create new opportunities for the dealer/installer.
This is the company's third technical forum in 2003. Energy Outfitters has aggressively expanded its wholesale renewable energy products distribution network this year as well. In addition to its West coast headquarters in Grants Pass, Oregon, the company now has offices in Cedar Grove, New Jersey; San Diego, California; and Vancouver, British Columbia.
The Tech Conference and RE Expo will be held at the Tropicana Hotel in Las Vegas. The fee for the three-day conference is $150 per person.
Please click to download additional Tech Conference and RE Expo information and Registration: Registration Form
or call 800 GO SOLAR.
Featured Product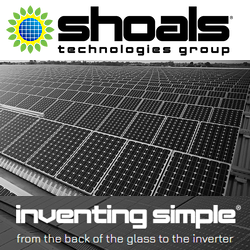 Inventing Simple® isn't just a slogan to us, it's a way of life. Using simple plug-and-play ideology, we revolutionized solar installations in 2003 with our Interconnect Systemâ"¢. Our harnessing system is now the gold standard EPC's use around the world. By using simple ideas, we are making solar energy a more affordable and clean power source for future generations.