Roof and Carport-Mounted Solar Arrays Furnished by PowerLight Corporation, Use High-Efficiency SANYO Solar Modules __ The two new solar electric installations, furnished by PowerLight, will generate 200kW of clean, electrical power.
SANYO North America Commissions 200kW Solar Installation at Its U.S. Headquarters in San Diego

Roof and Carport-Mounted Solar Arrays Furnished by PowerLight Corporation, Using High-Efficiency SANYO Solar Modules
SAN DIEGO, CA, JAN. 13, 2004 -- SANYO North America announced today it commissioned two new solar installations that will generate 200kW of clean, electrical power. The two solar arrays, a 150kW PowerLight PowerGuard® system atop the roof of SANYO's U.S. headquarters, and a 50 kW PowerLight PowerTracker® on the adjacent carport structure, will generate enough electricity during the daytime to power over 200 homes.
These solar electric systems were furnished by PowerLight Corporation using SANYO's high-efficiency frameless HIT-190 solar modules, and will be completed by Spring 2004.
The two new solar arrays contain 1,056 solar panels. SANYO's HIT-190 solar cell features an energy conversion rate of 18.5%, the highest rate for mass-produced cells currently available. The proprietary solar cell is a hybrid of technologies that produces an optimal yield-to-area ratio. Users achieve higher energy output in less space.
"SANYO is demonstrating its commitment to people and the Earth with these two solar arrays," said Masafumi Matsunaga, President of SANYO North America Corporation. "It is our pleasure to join forces with PowerLight to demonstrate that solar power makes environmental and economic sense for businesses and people."
"This installation represents a great partnership between SANYO and PowerLight, two companies that have developed outstanding solar technologies," noted PowerLight President Dan Shugar. "We're delighted SANYO has paired its high efficiency solar modules with PowerLight's innovative PowerGuard solar roofing assembly. Deploying them together at SANYO's headquarters demonstrates a tremendous commitment to renewable generation — a critical component in our energy mix."
SANYO is one of the world's leading solar photovoltaics manufacturers. In 2003, SANYO opened a new 10MW factory in Mexico, and continues to produce ingots for solar cells at its Carson, California facility. Along with other solar companies, SANYO has expanded its U.S. presence in recent years, providing high-value employment opportunities, and bringing a new level of quality and cell efficiency to the market.
About SANYO:
SANYO North America Corporation (www.sanyo.com), a subsidiary of SANYO Electric Co., Ltd. located in Japan, oversees and supports 23 different SANYO-affiliated companies throughout the United States, Canada and Mexico. Headquartered in San Diego, California, the SANYO North America Group companies have more than 5,000 employees engaged in manufacturing, sales and marketing, and service and support functions for SANYO's exciting and innovative products and services.
About PowerLight:
PowerLight (www.powerlight.com) is the leading manufacturer of commercial-scale solar electric products and services. Founded in 1991, PowerLight's systems solutions deliver reliable, affordable clean power for commercial and government customers worldwide. Inc. Magazine ranked the PowerLight Corporation among the top 500 fastest growing, privately held companies in 2000, 2001, 2002 and 2003. Today, PowerLight has worldwide offices and a full line of commercial solar electric products.
###
Susan DeVico
(415) 434-8220
sdevico@powerlight.com
Featured Product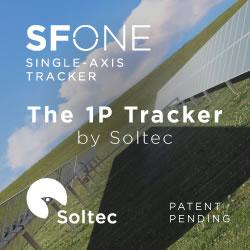 SFOne is the 1P single-axis tracker by Soltec. This tracker combines the mechanical simplicity with the extraordinary expertise of Soltec for more than 18 years. Specially designed for larger 72 an 78 cell modules, this tracker is self-powered thanks to its dedicated module, which results into a lower cost-operational power supply. The SFOne has a 5% less piles than standard competitor, what reduces a 75% the labor time.