Research Project Grows Four Ribbons from One Furnace
MARLBORO, Mass., Jan 22, 2004 /PRNewswire-FirstCall via COMTEX/ -- Evergreen Solar, Inc. (Nasdaq: ESLR), a developer, marketer, and manufacturer of photovoltaic (solar power) products for the worldwide market, today announced that it has successfully completed a prototype research project for its proprietary String Ribbon(TM) technology for manufacturing solar cells -- enabling the growth of four silicon ribbons from a single furnace. This research project was co-funded by a three-year, $2 million grant from the Advanced Technology Program of the National Institute of Standards and Technology (NIST). The completed project demonstrated a significant enhancement over Evergreen's double String Ribbon technology, which the Company announced a little over one year ago.

"It is widely recognized that growing silicon ribbons directly from the melt in a furnace has excellent potential to achieve lower costs in producing silicon solar cells," said Dr. Jack Hanoka, Chief Technology Officer at Evergreen Solar. "What we've been able to demonstrate here is not only growing four ribbons from a single furnace but an entirely new, dramatically simpler approach to crystal growth."
"This milestone further reinforces that Evergreen is a leading technical innovator in the solar industry," Dr. Hanoka added. "While this is a very early, laboratory-scale result, it is very exciting. Four ribbons from a single furnace could potentially lower cost by leveraging capital cost, floorspace, energy consumption, labor, and consumables."
Evergreen Solar conducted the research project in conjunction with Professor Emanuel Sachs, the pioneer of String Ribbon technology, who took a leave of absence last year from MIT to work on the project.
"I wanted to start with a clean slate and see how far the String Ribbon concept could be taken," Professor Sachs said. "The technology behind this machine is the result. I'm delighted with the outcome."
Dr. Hanoka explained that the String Ribbon concept -- originally developed at MIT and commercialized and improved at Evergreen Solar -- combines the most attractive attributes of crystalline silicon and emerging thin films. It achieves the reliability, stability, conversion efficiency, and market acceptance of crystalline silicon -- without the inherent cost and waste of sawing solid silicon blocks.
About String Ribbon Technology
In the String Ribbon technique, high temperature strings are pulled vertically through a shallow silicon melt, and the molten silicon spans and freezes between the strings to form a ribbon of silicon. Each pair of strings produces a single ribbon. The process is continuous: long strings are unwound from spools; the melt is replenished; and the silicon ribbon is cut into strips for further processing, without interrupting growth. This advantage in material efficiency means String Ribbon can yield over twice as many solar cells per pound of silicon as conventional methods. This technique embodies the efficient material utilization and potential for continuous processing of thin films, but with a more manufacturable process. String Ribbon is one of the most material and energy-efficient and environmentally friendly crystalline silicon processes in the industry.
About Evergreen Solar, Inc.
Evergreen Solar, Inc. (www.evergreensolar.com) develops, manufactures, and markets solar power products utilizing the Company's patented solar power technologies. The products provide reliable and environmentally clean electric power in global markets. Solar power applications include wireless power for remote homes, water pumping, lighting, and rural electrification, as well as complete power systems for electric utility customers choosing to generate their own environmentally benign power.
Featured Product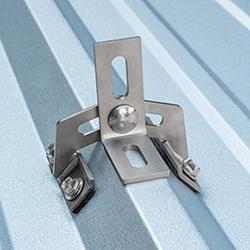 QuickBOLT Low Profile QuickBOLT with Microflashing™ is the industry's affordable, UL Certified Asphalt Shingle mounting system. The Microflashing™ is compressed by the collar on the bolt to create a water-tight seal. With an installation time of less than one minute, the Low Profile QuickBOLT allows installers to complete more jobs.