By combining a Xantrex SunTie XR Grid-tie Inverter with Atlantis Energy System's Sunslates® roofing product, the roof of a house can act as both a roof and a power plant simultaneously.
LAS VEGAS, NEVADA, USA, January 19, 2004 - Xantrex Technology and Atlantis Energy Systems are offering a new inverter and solar panel combination designed to make it easier for home builders to install renewable energy systems.

By combining a Xantrex SunTie XR Grid-tie Inverter with Atlantis Energy System's Sunslates® roofing product, the roof of a house can act as both a roof and a power plant simultaneously.
"We're working with Atlantis Energy Systems to make it easier for homeowners to participate in the emerging small-scale green power market," said Lloyd Gomm, Xantrex director of marketing operations. "The combined system is designed to make the installation of solar power systems easier and more affordable than ever before."
Sunslates® are an advanced photovoltaic roofing product that collect the Sun's energy and turn it into DC electricity. A Xantrex SunTie XR inverter turns solar electric power into utility grade AC electricity, which is used either in a home or fed back to the power company.
The Xantrex SunTie XR is a quiet, efficient grid-tie inverter that offers industry-leading performance and maximum energy harvest. When connected to the electrical grid, it literally spins the meter backwards by supplying any excess power produced to the utility company.
Sunslates® are a fiber cement slate roofing product based on the Swiss Eternit system. The system is popular in Europe and has been used for 60 years with great success. An installation of 216 Sunslates® (about 300 square feet) will cover 60 to 80 per cent of the power needs of a typical residence.
"Atlantis Energy Systems is committed to integrating solar systems into the design and construction of new homes," said Joe Morrissey, Atlantis vice president of sales. "We believe the combination of Sunslates® and Xantrex Inverters makes for the safest grid-connected solar system on the market today."
About Atlantis Energy
Atlantis Energy Systems, Inc. is a manufacturer of Building Integrated Photovoltaic (BIPV) products. The company's two product lines are Sunslates® PV roofing slates and custom PV glass laminates. AES services include: system design, project coordination, system integration and training.
About Xantrex
Xantrex Technology Inc. develops, manufactures and markets advanced power electronic and control products for the distributed, mobile and programmable power markets. The company's products convert raw electrical power from any central, distributed, or backup power source into high-quality power required by electronic and electrical equipment.
Privately owned with 600 employees and revenues of $105 million US ($165 million Cdn) in 2002, Xantrex is headquartered in Vancouver, British Columbia and has other facilities in Arlington, Washington; Livermore, California; Miami, Florida and Barcelona, Spain.
Featured Product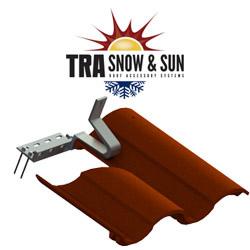 You haven't installed a tile mount that is easier to install than the Solar Tile Mount manufactured by TRA Snow and Sun. Solar Tile Mount is used on all tile roof profiles: flat, mid, and high. It is made in the USA of aluminum alloy for strength and excellent corrosion resistance. Solar Tile Mount is built to allow more ease in installation with more rise from the tile surface to the rail for better air flow below panels. The adjustable base is longer than most allowing attachment 6" to the left or right to have the bracket in the base of the pan of the tile and still fasten to the rafter. Solar Tile Mount is adjustable for counter batten systems from ¾" to 3". The horizontal rail is directly above base fasteners giving greater uplift resistance than any other system. For superior waterproofing apply TRA Snow and Sun's butyl backed VersaFlash aluminum flashing. No tile flashing is needed on top of the tile for greater labor and material cost savings.