Wind turbine and photovoltaic companies experienced extraordinary sales, and are expected to translate these sales into solid market share gains on the competition.
In the distributed generation (DG) industry, most of the fuel cell and microturbine companies reported disappointing results for 2003, as they failed to ship expected unit quantities of their products. Wind turbine and photovoltaic companies, however, experienced extraordinary sales, and are expected to translate these sales into solid market share gains on the competition, finds ABI Research.

"Fuel cells and microturbines have unfortunately not lived up to industry expectations," explains Atakan Ozbek, ABI Research's Director of Energy Research. "Despite hundreds of millions of dollars spent on R&D, the relatively quiet power generation markets and the technological uncertainty of fuel cells and microturbines were two major reasons for the poor performance of these two energy technologies over the past two years."
Although the summer 2003 blackouts in North America and Europe presented a perfect business case for DG type technologies, only wind turbines and photovoltaics were the beneficiaries. "Fuel cell and microturbine companies should influence lawmakers in Washington, Brussels and Tokyo, in order to receive the same financial incentives as that of the solar and wind energy industries, so that the high initial costs of development can be brought down to reasonable levels," adds Mr. Ozbek.
While the near-term DG markets are still uncertain, the long-term distributed generation market potential appears enthusiastic. Global installed DG capacity is projected to nearly triple to 200,000 megawatts by 2011, according to ABI Research. Companies such as Vestas, NEG Micon, GE Wind Energy, and Sanyo have been benefiting tremendously from strong government incentives across the globe, starting with Japan, the EU, and followed by the US.
The ABI Research study, "Distributed Generation: Growth Projections for Fuel Cells, Photovoltaics, Wind Turbines, Reciprocating Engines, and Small Gas Turbines," evaluates major distributed generation technologies and gives annual shipments by technology and major region. Discussions of the current regulatory environment, tax practices, environmental issues, and business considerations affecting the present and future uptake of DG technologies are provided.
Founded in 1990 and headquartered in New York, ABI Research maintains global operations that support annual research programs, quarterly intelligence services and market reports in wireless, automotive, semiconductors, broadband, and energy. Their market research products can be found on the web at abiresearch.com, or by calling 516.624.3113.
Featured Product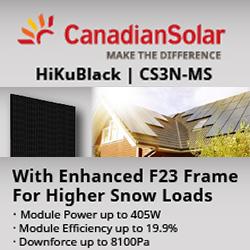 Aesthetic appearance for residential systems: With black backsheet & black frame, Power range 380 ~ 405 W, Low power loss in cell connection. Enhanced reliability: · Low temperature coefficient (Pmax): -0.34 % / °C, LID LeTID less than 2.0%, Lower hot spot temperature, Better shading tolerance.