Components for microhydro developers including low cost turgo runners of either plastic or stainless steel buckets.
We are pleased to offer precision cast stainless steel turgospoons in two sizes, corresponding to the previously available bluespoon and orangespoon plastic turbine buckets. These are available individually for those wishing to assemble their own runner, or in complete turgo runners covering a wide range of diameters.

The two spoon sizes are suited for nozzles up to 16mm and 32mm bore respectively. A full range of nozzle bore diameters compatible with these turgospoons are also available.
Nozzle and turbine runner sizing tables and spreadsheets are found on the web site.
Featured Product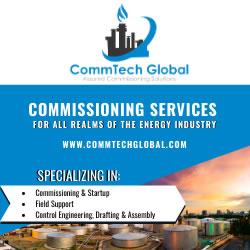 CommTech Global Solutions, LLC, provides professional and reliable commissioning services to customers in all realms of the energy industry. We blend our skills in engineering and technology with innovative business models, offering a complete range of services to assist you for a successful and in compliance operational startup. Consolidation of all our service domains gives our clients a comprehensive set of expertise and far-reaching experience on each project.