Memorandum of Understanding Provides for Realignment of Alliance Responsibilities to Ensure Long-Term Commitment to Advance Fuel Cell Technology and Commercialize Fuel Cell Vehicles
In February, Ballard Power Systems (NASDAQ:BLDP) (TSX:BLD) announced it was exploring strategic alternatives with DaimlerChrysler AG and Ford Motor Company to improve their Vehicular Fuel Cell Alliance to, among other things:

- Optimize the roles of the partners
- Advance development plans for the next generation fuel cell engine and
- Provide Ballard with improved financial and operational flexibility.
As a result of those discussions, the partners have entered into a comprehensive non-binding Memorandum of Understanding ("MOU") that outlines several initiatives, including further defining the roles and responsibilities of their Alliance and further establishing program funding requirements to ensure that the Alliance continues to build on its leadership.
All amounts are reported in US dollars unless otherwise noted.
Responsibilities
The roles and responsibilities of the Alliance will be redefined with Ballard intensifying its focus on its traditional strengths in fuel cell research, development and manufacturing, while continuing to support the development of its electric drive system.
Under the terms of the MOU, DaimlerChrysler and Ford would acquire Ballard's vehicular fuel cell systems business (Ballard AG, formerly XCELLSIS) and would jointly be responsible for the research, development and manufacturing of the vehicular fuel cell system (balance of plant).
"These roles and responsibilities support the Alliance's key strength - building on its critical mass of technical resources and intellectual capital to deliver on its promise of leadership in the automotive fuel cell industry," said Dennis Campbell, Ballard's President and Chief Executive Officer. "The Alliance shares a long-term commitment to advance fuel cell technology and commercialize fuel cell vehicles through collaboration."
Program Funding
The Alliance partners have jointly developed program plans for the next generation vehicular fuel cell, electric drive and fuel cell system. They have also established a framework for the development and funding of the follow-on next generation fuel cell and fuel cell technology.
Under the terms of the MOU, DaimlerChrysler and Ford would provide up to $58 million in funding for the next two generations of vehicular fuel cells and the next generation electric drive system.
"Our program plans and the development of our technology within the Alliance will balance the requirements of the vehicle, the fuel cell, the fuel cell system and the electric drive system to ensure that we are delivering against market requirements," said Dennis Campbell, Ballard's President and Chief Executive Officer. "We are being responsive to the needs of our partners to strengthen their competitive advantage and support the ambitious product development and commercialization goals established for the next generation automotive fuel cell vehicle."
Gerhard Schmidt, Vice President, Research and Advanced Engineering, Ford Motor Company said, "We believe the restructuring of the Alliance will keep Ford highly competitive in the development and introduction of hydrogen fuel cell-powered vehicles. It will allow Ford to build on our long record of fuel cell vehicle innovation and success, as we travel on a road to a hydrogen-powered future."
Operating Model
Ballard has made significant improvements to the fuel cell engine that have increased lifetime, lowered costs and improved performance, resulting in the successful development of world-leading fuel cell engine technology. These learnings will be utilized by the Alliance in the next generations of vehicular fuel cell technology.
Ballard, with its Alliance partners, will leverage the experience from the current generation program into a new operational model that will improve the research and development process for the next generation fuel cell technology.
"The success of our Alliance has and will continue to stem from the commitment of the partners, and the cooperative efforts and teamwork of all parties working within an open environment," said Dennis Campbell, Ballard's President and Chief Executive Officer. "Our new arrangement and operating model will continue to facilitate effective day-to-day operations of the Alliance to leverage each of our core competencies, with a shared long-term commitment to commercialize fuel cell vehicles."
Prof. Juergen Hubbert, Member of the Board of Management of DaimlerChrysler said, "We are committed to building on the Alliance's technical achievements and continued collaboration. This is vital to all partners as we work together to advance automotive fuel cell technology. By refocusing and optimizing the Alliance, we provide all partners with the flexibility to achieve our common goal - to deliver the best in class fuel cell vehicles."
Additional MOU Terms
Under the terms of the MOU, DaimlerChrysler and Ford would acquire ownership of Ballard Power Systems' 50.1 percent interest in Ballard AG, in exchange for the return to Ballard of 9 million of its common shares that are currently held by DaimlerChrysler and Ford, valued at $80.4 million based on the July 7, 2004 closing price of $8.93 per share. These shares would then be cancelled. Further, the forward sale agreement related to the purchase by Ballard of the remaining 49.9 percent interest of Ballard AG from DaimlerChrysler in exchange for the issuance of 7.6 million shares of Ballard to DaimlerChrysler, would be modified accordingly, resulting in a 100 percent ownership of Ballard AG by DaimlerChrysler and Ford. It is anticipated that Ballard will record a loss in the third quarter of 2004, estimated at $18 million, as a result of this transaction. This estimate is subject to a number of variables which may result in the estimate changing.
In addition the MOU provides that, at closing, DaimlerChrysler and Ford would, in total, invest Cdn. $55 million in exchange for 4,457,545 shares in satisfaction of the existing Call Agreement.
"This capital investment by DaimlerChrysler and Ford will provide Ballard with additional financial strength and flexibility," said Dennis Campbell, Ballard's President and Chief Executive Officer. "With funding and program plans established to advance vehicular fuel cell technology, Ballard is well positioned to build on its leadership position in the industry."
Under the terms of the MOU, following the close of the transaction, DaimlerChrysler's ownership in Ballard would increase from 16.6 to 18.8 percent and Ford's ownership in Ballard would decrease from 18.7 to 13.9 percent. DaimlerChrysler and Ford's representation on Ballard's 12 member board of directors would remain unchanged with each having two representatives on Ballard's board of directors.
After giving effect to the proposed share cancellations and the issuance of the shares under the Call Agreement, the issued and outstanding share capital of Ballard would be reduced from 118,385,091 to 113,842,636 common shares.
The companies expect to finalize definitive agreements and complete the transaction later this year, subject to the ratification of the MOU by DaimlerChrysler's Supervisory Board, and further approvals from the boards of directors of Ballard and Ford, Ballard's shareholders and regulatory agencies in Canada, the United States and Germany.
Conference Call
Ballard Power Systems will host a telephone conference call and audio webcast to discuss this announcement at 12:00 noon Eastern Time. The conference call may be accessed either by calling the operator at 416-640-4127 prior to the scheduled start time or through a live audio webcast that can be accessed from Ballard's web site at www.ballard.com. A telephone playback version of the conference call will be available for one week after the call at 416-640-1917. The confirmation number to access the playback version is 21056228#. A playback of the conference call will be available on Ballard's website.
This release contains forward-looking statements that are based on the beliefs of Ballard's management and reflect Ballard's current expectations as contemplated under section 27A of the Securities Act of 1933, as amended, and Section 21E of the Securities and Exchange Act of 1934, as amended. When used in this release, the words "estimate", "project", "believe", "anticipate", "intend", "expect", "plan", "predict", "may", "should", "will", the negative of these words or such other variations thereon or comparable terminology are intended to identify forward-looking statements. Such statements reflect the current views of Ballard with respect to future events based on currently available information and are subject to risks and uncertainties that could cause actual results to differ materially from those contemplated in those forward-looking statements.
About DaimlerChrysler
DaimlerChrysler AG, a global corporation with over 362,000 employees, began its car-making lineage in 1886 with the world's very first automobile and has continued, from inception, to provide its customers with a century of technical innovations that steadily advance frontiers. DaimlerChrysler is a leading automotive company, with its car, truck, and financial services. For over ten years, DaimlerChrysler has been working on the development of fuel cell vehicles and, since 1994, has presented more than twenty fuel cell vehicles as concept cars and has already offered the first 30 fuel cell buses to transit customers for delivery to 10 European cities beginning in 2002. By the end of 2004 a small fleet of 60 fuel cell vehicles will be delivered to customers in the USA, Europe, Japan and Singapore.
About Ford
Ford Motor Company, a global automotive industry leader based in Dearborn, Michigan, manufactures and distributes automobiles in 200 markets across six continents. With more than 327,000 employees worldwide, the company's core and affiliated automotive brands include Aston Martin, Ford, Jaguar, Land Rover, Lincoln, Mazda, Mercury and Volvo. Its automotive-related services include Ford Credit, Quality Care and Hertz. Ford Motor Company celebrated its 100th anniversary on June 16, 2003.
Currently Ford is operating more than 25 third-generation Focus Fuel Cell Vehicles in engineering and marketing fleets around the globe. Four more will go into service on the streets of Vancouver, British Columbia later this year - a first-ever long-term real-world test of fuel cell vehicles in Canada. Up to 30 more will go into service beginning next year in fleets in Orlando, Florida; Detroit, Michigan; and Sacramento, California - a major step toward commercialization.
About Ballard
Ballard Power Systems is recognized as the world leader in developing, manufacturing and marketing zero-emission proton exchange membrane fuel cells. Ballard is commercializing fuel cell engines for transportation applications and fuel cell systems for portable and stationary products. Ballard is also commercializing electric drives for fuel cell and other electric vehicles and power conversion products, and is a Tier 1 automotive supplier of friction materials for power train components. Ballard's proprietary technology is enabling automobile, bus, electrical equipment, portable power and stationary product manufacturers to develop environmentally clean products for sale. Ballard is partnering with strong, world-leading companies, including DaimlerChrysler, Ford and EBARA, to commercialize Ballard(R) fuel cells. Ballard has supplied fuel cells to Honda, MGE UPS SYSTEMS, Mitsubishi, Nissan and Volkswagen, among others.
Featured Product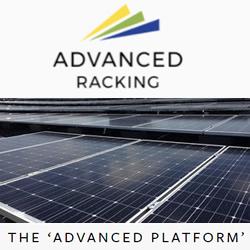 The 'Advanced Platform' simplifies the installation process by using universal mounting hardware that works perfectly across all roof types. Smart roof connection kits then connect to the specific roof's surface. The Advanced Platform is versatile: Our common design can be your single solution for all roof types.