Where Hydrogen Vehicles are Garaged Current facilities likely OK for housing and servicing fuel cell vehicles
West Sacramento, August 16, 2004 - Anticipating the question of how safely a hydrogen-fueled vehicle could be housed in a repair facility or enclosed parking garage, the California Fuel Cell Partnership (www.cafcp.org) today released the results of a study examining practical designs for facilities that house or service hydrogen fuel cell vehicles (HFCVs).

CaFCP commissioned Parsons Brinckerhoff (www.pbworld.com), a global planning and construction management firm, to conduct the study. Work began in 2002. The report is expected to be helpful for facility designers and code developers regarding important commercialization scenarios for hydrogen-fueled vehicles and supporting infrastructure.
"As our members begin to place fuel cell vehicles and hydrogen fueling stations into real-world use, it is vital that we fully understand how current design and construction practices relate to the safe accommodation of the vehicles," said Catherine Dunwoody, Executive Director of CaFCP. "It is encouraging to know that current standards -- coupled with the preventive measures taken by the manufacturers -- point to safe facilities without costly modifications."
Case studies were developed to address several distinct facility types: commercial multi-story parking facilities, both above-ground and below-ground; commercial maintenance and repair service stations; and residential two-car garages.
For each case study, a baseline building design was developed incorporating functional requirements and applicable building codes. In particular, a comparison was made to current codes for facilities designed for compressed natural gas vehicles to see what additional steps might be needed for hydrogen.
Modeling scenarios revealed that in all case studies, leaking hydrogen did not extend beyond two feet immediately surrounding the vehicle. Typical airflow (from natural or mechanical ventilation) resulted in dilution of leaking hydrogen to lower than the lowest flammable concentration levels. In cases of low ventilation, results showed the hydrogen would quickly spread to the wheel wells where hydrogen sensors would detect and control the leak with emergency shut-off valves.
To ensure the study's applicability, the assumptions and results were reviewed with key standards development organizations and local fire officials.
While the study cautions that results should be taken in the context of pre-commercialization of fuel cell vehicles and still-developing codes, standards, and regulatory schemes, the results nonetheless suggest that facilities compliant with today's requirements could safely accommodate HFCVs without any modifications.
Additionally, the report finds that one of the most important aspects to ensuring safety will be the preventive measures integrated into the vehicles themselves, such as leak sensors and shut-off valves.
The study is available online at CaFCP's website (www.cafcp.org). Compact disks and a limited number of print copies may be requested by contacting CaFCP by email (info@cafcp.org -- specify request for the Vehicle Facilities Study as a CD or printed copy).
About the CaFCP
The California Fuel Cell Partnership is a voluntary, industry-government collaboration to advance a new vehicle and fueling technology that could move the world toward practical and affordable environmental solutions. CaFCP members are demonstrating fuel cell-powered electric vehicles under real day-to-day driving conditions; testing alternative fuels and demonstrating the viability of an alternative fuel infrastructure technology; facilitating the path to commercialization; and increasing public awareness of fuel cell electric vehicles. The CaFCP is working to facilitate placement of up to 300 fuel cell passenger cars and buses on the road by the end of 2007.
The CaFCP -- which started in April 1999 -- includes auto manufacturers (DaimlerChrysler, Ford, General Motors, Honda, Hyundai, Nissan, Toyota and Volkswagen); energy providers (Air Products, BP, ChevronTexaco, ExxonMobil, Methanex, Pacific Gas and Electric Company, Praxair, Proton Energy Systems, Shell Hydrogen, Stuart Energy, and Ztek); technology companies (Ballard Power Systems and UTC Fuel Cells); government agencies (California Air Resources Board, California Energy Commission, South Coast AQMD, US Department of Energy, US Department of Transportation and US Environmental Protection Agency and the Institute of Transportation Studies at UC Davis); and bus transit agencies (AC Transit, Santa Clara Valley Transportation Authority, and SunLine Transit Agency).
For more information, please contact the California Fuel Cell Partnership at: 916-371-2870 or by email: info@cafcp.org
, or visit www.fuelcellpartnership.org

Featured Product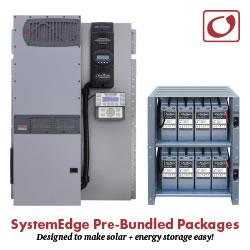 Each pre-bundled package is designed to make solar plus energy storage easy. By combining OutBack's most popular FLEXpower pre-wired systems with matched OutBack energy storage, SystemEdge takes the guesswork out of installing solar plus storage. Every SystemEdge package includes a FLEXpower factory pre-wired system, application-specific EnergyCell batteries and racking, FLEXware ICS Plus combiner and all the necessary connection hardware.