403kW Solar Array, One of the Largest Federal Solar Installations in the Nation, furnished by PowerLight Corporation
West Sacramento, CA, OCT. 13, 2004 -- As part of its ongoing drive to optimize efficiency and conserve natural resources, the U.S. Postal Service (USPS) today announced the completion of one of the largest federal solar power installations in the nation, and the deployment of energy efficiency upgrades at the USPS's West Sacramento Processing & Distribution Center.

The 573,000-square-foot mail facility is a major U.S. Postal Service hub in Northern California, employing more than 1,200 people and processing 8 to 10 million pieces of mail daily.
Chevron Energy Solutions, a ChevronTexaco (NYSE: CVX) subsidiary, developed the energy project, which included a solar photovoltaic system mounted on a new parking structure; energy-efficient lighting systems; heating, cooling and ventilation systems; air compressors; and energy management controls.
The 403-kilowatt solar electric system, designed and built by PowerLight Corporation, is the largest photovoltaic installation at a USPS facility. Covering nearly 28,000 square feet, the solar generation system leverages an unused assetóthe parking lot, to generate clean power for the facility as well as shade and protection for 180 vehicles.
The energy improvements will reduce the USPS facility's annual electricity purchases by more than $615,000 and lower its power consumption by more than 33 percent. They also will lower natural gas use by about 43,000 therms per year. Together these reductions translate to avoided local electric utility emissions of about 3,900 tons of carbon dioxide annually, the equivalent of planting 1,100 acres of trees.
The project's completion was celebrated today at an event that was held in the shade of the solar-paneled parking canopy and attended by USPS and other government officials.
"Energy conservation and the use of renewable energy are a growing part of USPS operations nationwide," said Ray Levinson, USPS's interim national environmental program manager. "This project is an important step towards our goal of operating our facilities as energy-efficiently as possible. It's also timely, as October is Federal Energy Awareness Month."
The total cost of the project was funded entirely through energy savings and utility rebate incentives, requiring no contribution from USPS's capital budget.
"This project clearly demonstrates that a major facility can conserve energy, reduce energy costs and benefit the environment without having to divert capital resources from other critical needs," said Jim Davis, president of Chevron Energy Solutions. "It's a successful model that works."
"PowerLight is thrilled that the US Postal Service has installed its second significant large-scale solar electric system," said PowerLight President Dan Shugar. "This deployment illustrates the USPS's continued, responsible approach to sustainable energy use. Not only is solar PV an environmentally sound and smart energy choice, it's practical and affordable."
The solar portion of the project is on track to receive a $1.6 million rebate from PG&E's self-generation incentive program. In addition, the Postal Service is on track to receive a PG&E rebate of up to $300,000 for energy efficiency improvements made at the facility.
"Pacific Gas and Electric Company is proud to have partnered with the Postal Service on this important project," said Beverly Alexander, vice president of customer satisfaction at PG&E. "Solar rebates represent one of the many ways in which PG&E helps customers meet their energy needs. PG&E has a long-standing commitment to energy efficiency, conservation and renewable energy, and this project demonstrates how a facility can take advantage of all of these alternatives."
The West Sacramento project is part of a larger USPS contract with Chevron Energy Solutions to install energy efficiency improvements at eight mail facilities in northern California, including facilities in Stockton, Marysville, Vacaville, Colfax and Winters. Together, these improvements will save the Postal Service more than $800,000 a year in energy costs.
Since 1985 USPS has reduced its energy consumption nationally by more than 20 percent, installed solar power systems at facilities in California, Colorado, Rhode Island, Texas and Puerto Rico, and begun using geothermal technology to provide heating and cooling at facilities in Oklahoma and Maryland. Over the past year it also dedicated new "green" post offices in Ft. Worth, TX, and Corrales, NM, and completed energy efficiency upgrades at two facilities in Memphis, TN. In addition, the USPS operates 30,000 alternative fuel vehicles (AFVs) -- the largest AFV fleet in the nation, using ethanol, compressed natural gas and electricity.
For more information about the U.S. Postal Service, Chevron Energy Solutions and PowerLight Corporation, please visit their web sites at www.usps.com , www.chevronenergy.com and www.powerlight.com.
# # #
Susan DeVico
(415) 434-8220
Featured Product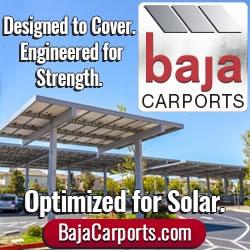 Baja Carports offers an extensive solar support system product line customized to customers' site specifications by in-house engineers, meeting their parking lot coverage, plus optimal PV production needs. Baja's Full Cantilever Tee is often paired with its Semi and Full Cantilever carports to meet live/loads up to 60psf and wind speeds to 160mph. All Baja products are pre-fabricated, bolted connections, pre-galvanized structural steel for fast on-site installation and project aesthetic requirements."