Next funding round to target finance, policy and regulation projects
London - November 17, 2004

The Renewable Energy and Energy Efficiency Partnership (REEEP) is to make €1 million available to fund renewable energy projects internationally. REEEP, established by the UK government in 2002 to drive the integration of renewable and energy efficient systems (REES) into national and global energy policy, is seeking project proposals for its third funding round, for the period 1 April 2005 to 31 March 2006.
REEEP's priority for this funding round will be projects that either use innovative financing mechanisms to catalyse the uptake of REES, or contribute to a supportive regulative and legal environment. Due to the specific structure of REES projects, which often focus on small scale and off-grid generation, it is vital to leverage the limited resources available, and encourage policy and regulation that overcome market barriers or the perception of risk in new energy markets.
Announcing the new funding round, Dr. Marianne Osterkorn, REEEP International Director, said: "REEEP currently funds over 40 REES projects worldwide. Although many are modest in scale, we ensure that all provide a blueprint for project finance and regulatory change that can be localised and replicated elsewhere. We will be using the next funding round to leverage further the capability and potential of renewable energy, and to build on our existing project record."
The total volume of this projects call is around €1 million and will be available from 1 April 2005. REEEP expects to fund about 15 projects with an average REEEP contribution of €70,000. The funds have been made available by the UK Government (FCO Global Opportunities Fund Climate Change and Energy Programme).
For further details and to download bid documents and procedures, visit: http://www.reeep.org/groups/callforbids.
Featured Product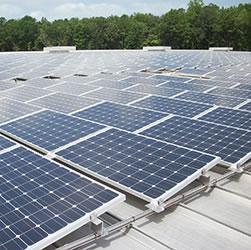 The Power Rail™ Commercial Mounting System is designed with the professional PV solar installer in mind. Both the XD/UD and LD/MD rails feature single tool assembly with the revolutionary patented RAD™ Lock-in-Place bolt for fast and secure module clamping. The high strength marine-grade aluminum rails include an integral wiring channel for securing cables and providing a professional finish.