The CEC efficiency ratings for the IG series is 94% for the IG 4000 and IG 5100 and 93% for the IG4500
Santa Barbara, CA. Fronius USA Solar Electronics Division, a world leader in power electronics, announced that it received eligibility listing from the California Energy Commission (CEC) for its' new FRONIUS IG 4000, IG 5100 and IG 4500-LV grid-tied inverters for the Emerging Renewables Program Rebates.

The CEC efficiency ratings for the IG series is 94% for the IG 4000 and IG 5100 and 93% for the IG4500-LVat each of the units' maximum continuous AC output power: 4000 W, 5100 W, and 4500 W respectively. CEC listing of the IG inverters can be found at http://www.consumerenergycenter.org/cgi-bin/eligible_inverters.cgi.
"With the recent completion of UL and now our eligibility for the CEC program, Fronius is in a great position to begin delivering the new higher output IG inverters for the growing grid-connected markets here in California as well as other emerging markets in the United States and Canada." says Mark Stimson, Director of Sales and Marketing for Fronius USA - Solar Electronics Division. "The addition of these new inverters will allow solar contractors to take advantage of a broad range of output power that can be used to optimally design residential and commercial systems."
Fronius recently introduced a number of new IG inverters that offer same high efficiency, established high reliability, and intelligent thermal management that has made Fronius a leading choice for high reliability inverters used in grid-tied photovoltaic systems. The Fronius IG Series now includes the most extensive range of inverters between 2 and 5.1 kW. At 26 and 42 lbs., the FRONIUS IG inverters are between one-third and half the weight of competing inverters. Built-in DC and AC disconnects eliminate the need for external breakers in many cases, reducing total system costs. FRONIUS IG inverters come standard with an integrated LCD where the installer can view and record over 20 parameters pertaining to inverter and system operation. Optional remote data communications and data logging features can easily be added via Plug-n-Play cards to transform IG inverters into a sophisticated data acquisition system and weather station.
About Fronius
Fronius International GmbH is a world market leader in high frequency welding technology and one of the leading photovoltaic inverter manufacturers. Headquarters in Wels, Austria, the US subsidiary, Fronius USA LLC, is located in Brighton, Michigan. Fronius has over 50 years of experience in developing innovative power conversion technologies and employees over 1300 globally. Fronius was founded in 1945 and has developed a revolutionary inverter concept that is used for both grid-tied as well as stand-alone solar systems. Over 60,000 Fronius solar inverters have been installed worldwide. Fronius Solar Electronics Division is supported through an international network of sales partners.
Featured Product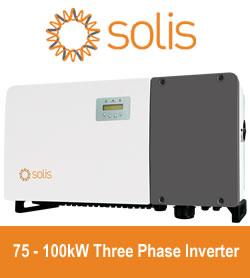 Solis75kW - 100kW series high-power string inverters are widely used in industrial and commercial rooftops. Solis's new three-phase string inverter is the first choice for industrial and commercial photovoltaics. 75-100kW three phase series string inverter have Maximum 28 strings input, support "Y" type connection in DC side. Maximum string input current 13A, support bifacial modules access.Supports anti-PID function to improve system efficiency.