Specifically Designed for High Altitude Airships, Winged Unmanned Aerial Vehicles and Orbital Applications for Next Generation Satellite Craft
HalfMoon, NY - (PR NEWSWIRE) - March 3, 2005 - DayStar Technologies, Inc. (NASDAQ: DSTI), a developer and manufacturer of patented and proprietary high performance, silicon-free solar cells on specialty metal foils, today unveiled LightFoil' for high specific power applications. This proprietary alternative energy solution is the first of many highly anticipated Photovoltaic Foil products expected from DayStar.

Military and Homeland Security applications for LightFoil' include high altitude airships (HAA), winged unmanned aerial vehicles (UAV), and orbital applications for next generation satellite craft. The product meets the low weight, high power, and form flexibility metrics required by onboard power generation systems for these weight sensitive applications.
LightFoil' consists of high efficiency CIGS solar cells deposited on thin titanium foil. Less than the thickness of common household aluminum foil, LightFoil design allows for high power production from sunlight without excessive weight. The Company has achieved a specific power level of 1440 W/kg (15.2% AM0 efficiency) in the laboratory setting, which is approximately 50% more energy dense and 60% lighter than all known thin film alternatives. Manufacturing development of LightFoil' based on the laboratory benchmark is currently underway with a specific power target that will exceed 1000 W/kg. Engineering samples should be available in 2Q 2005.
In addition to high specific power, LightFoil' is also flexible both physically and in form factors. The product molds to curved surfaces and can be cut to shape to conform to complex geometric requirements.
"LightFoil' is specifically designed to meet the unique challenges posed by stratospheric airships, other UAV's and orbital craft," stated Dr. John Tuttle, DayStar's CEO. "Without the constraints of adapting an existing silicon-based product manufacturing line, we were free to produce a low cost, lightweight product which exceeds specific power requirements in many cases. As a consequence, DayStar is able to dedicate manufacturing capability specifically for LightFoil', should demand warrant."
To achieve cost and quantity benchmarks, the Company produces its Photovoltaic Foil products using proprietary, low cost, high volume manufacturing processes adapted from commodity computer component manufacturing. As a result, LightFoil' is not only lightweight with high power but also cost effective for specialized military, homeland security and commercial applications.
About DayStar Technologies, Inc.
DayStar Technologies, Inc. is a global leader in low cost, high efficiency Photovoltaic Foil that converts sunlight into energy. The Company's patented and proprietary products utilize silicon-free CIGS solar cells, which are deposited on specialty metal foils using production processes adapted from commodity computer component manufacturing. DayStar believes the unique combination of its CIGS solar cell design coupled with inexpensive manufacturing processes can lead to solar electricity at commercially viable rates. For more information on the Company, please visit www.daystartech.com
Featured Product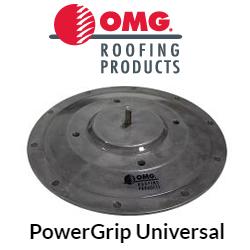 Eliminate Solar Rack Ballast and Reduce Rooftop Material Handling. PowerGrip™ Universal (PGU) is a commercial roof mount system designed to secure solar racks and other equipment to any type of commercial roofing system. PGU provides a secure connection directly to the roof deck or structural members and is designed to reduce or eliminate ballast in solar racking systems, so there's less weight on the roof and less material handling. Made of heavy-duty cast aluminum, PGU units include a base ring which is secured through the roofing cover and into the structural roof deck, and a waterproof top plate.