Renewable Energy Finance Forum to be held June 23-24, 2005 at the Waldorf-Astoria
Washington, DC - The American Council On Renewable Energy (ACORE) and Euromoney Energy Events, a subsidiary of Euromoney Institutional Investor PLC, today announced the slate of speakers for "Renewable Energy Finance Forum - Wall Street" the all-renewable energy finance conference where over 500 bankers and investors are expected to gather at the Waldorf-Astoria Hotel in New York City June 23-24, 2005.

Keynote speakers include:
The Honorable George E. Pataki, Governor of New York
The Honorable Philip Angelides, Treasurer of California
Tom Carbone, President, Vestas America
Alex Urquhart, President and CEO, GE Commercial Finance, Energy Financial Services
Noted speakers include:
John C.S. Anderson, Head, Power and Project Finance, John Hancock Life Insurance Company
Raj Atluru, Managing Director, Draper Fisher Jurvetson
Scott Brown, Chief Executive Officer, New Energy Capital LLC
Brian J. Daly, Managing Director, Trust Company of the West
Theo de Wolff, Managing Director, Marathon Capital, LLC
Fabrizio Donini Ferretti, Head of Energy, Dexia Credit Local
Joyce Ferris, Managing Partner, Blue Hill Partners LLC
Nancy Floyd, Managing Director, Nth Power LLC
Steven Greenwald, Managing Director, Head of Project Finance, Credit Suisse First Boston
Daniel Gross, Senior Vice President, GE Commercial Finance
Michael Garland, Partner, Babcock & Brown LLP
Sven Hansen, Associate Partner, Good Energies Inc.
Tom King, Partner, US Renewables Group
Jim Marver, Managing Director, Vantage Point Venture Partners
Chuck McDermott, Partner, Rockport Capital Partners
Jerome Peters, Senior Vice President and Group Head, Hudson United Bank
Christopher Walker, Managing Director, Swiss RE Financial Services Corporation
Michael Ware, Managing Director, Advance Capital Markets, Inc.
Thomas White, Managing Director, Marathon Capital, LLC
Eron Bloomgarden, Senior Project Manager, EcoSecurities Ltd.
Claire Broido, President, SunEdison LLC
James Cameron, Director, Climate Change Capital
Jack Cogen, President, Natsource, LLC
Pieter Duisenberg, Chief Financial Officer, Shell International Renewables BV
Edward Einowski, Partner, Stoel Rives LLP
Richard Feldt, President and CEO, Evergreen Solar
Ed Feo, Partner, Milbank, Tweed, Hadley & McCloy LLP
John Geesman, Commissioner, California Energy Commission
Chris Groobey, Partner, Baker & McKenzie LLP
Jonathan Johns, Partner, Ernst & Young
Mel Jones, President and Chief Executive Officer, Sterling Planet
Matthew Kiernan, Founder and Chief Executive, Innovest Strategic Value Advisors
Keith Martin, Partner, Chadbourne & Parke LLP
Anton Milner, Co-Founder and CEO, Q-Cells AG
James Murphy, Senior Vice President and Chief Financial Officer, Invenergy LLC
Christopher O'Brien, Chairman, Solar Energy Industries Association and Vice President, Sharp Solar
Eddie O'Conner, Chief Executive, Airtricity
Michael R. Peevey, Chairman, CA Clean Energy Fund, and President, CA Public Utilities Commission
Hezy Ram, Executive Vice President, Ormat Technologies, Inc.
Robert Simmons, Senior Vice President, Panda Group
Peter Smith, President, New York State Energy Research and Development Authority (NYSERDA)
The top sponsors of the conference are Stoel Rives LLP, the Platinum Sponsor; Milbank, the Gold Sponsor; and Orrick, the Silver Sponsor. Other sponsors include Swiss Re; Baker & McKenzie; Navigant Consulting; Dexia Credit Local; Vestas; and Natsource. In addition, BASE, Chadbourne & Parke LLP, Project Finance, Platts, Renewable Energy World, Power Finance & Risk, Institutional Investor, and New Energy Finance are among the conference supporters.
Conference co-chairs are Kenneth R. Locklin, Director, Massachusetts Green Energy Fund; Dan W. Reicher, Founder and President, New Energy Capital; Michael D. Ware, Managing Director, Advance Capital Markets Inc., and Thomas B. White, Managing Director, Marathon Capital LLC.
Attendees at the 2004 event stated that the conference was strong and particularly relevant to the Wall Street community. Comments ranged from, "REFF brought into sharp relief the huge panorama of financial elements that make up the renewable energy arena" to "the high level of attendance from Wall Street should make it clear to all that renewable energy has become part of the mainstream," and "REFF-Wall Street assembled the biggest and best talent from around the world focused on solving today's energy crisis."
About The American Council On Renewable Energy (ACORE) and Euromoney Energy Events
ACORE, a 501(c)(3) membership nonprofit organization headquartered in Washington, DC, is dedicated to bringing renewable energy into the mainstream of the US economy and lifestyle through information and communications programs. ACORE provides a common platform for the wide range of interests in the renewable energy community including renewable energy industries, associations, utilities, end users, professional service firms, financial institutions and government agencies. ACORE serves as a forum through which these parties work together on common interests. Membership information is available at: www.acore.org.
Euromoney Energy Events (EEE) is a London-based wholly owned subsidiary of Euromoney Institutional Investor PLC, the publisher of Institutional Investor, Project Finance & Risk, Power Economics and other global publications. EEE's diverse range of conferences address topical issues in the energy sector, with a focus on financial and commercial aspects, in a portfolio that ranges across Renewable Energy, Waste, LNG and Emissions. EEE also is the organizer of the Renewable Energy Finance Forum held every September in London. For additional information about Renewable Energy Finance Forum - Wall Street, visit www.EuromoneyEnergy.com.
Featured Product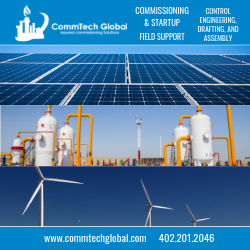 CommTech Global Solutions, LLC, provides professional and reliable commissioning services to customers in all realms of the energy industry. We blend our skills in engineering and technology with innovative business models, offering a complete range of services to assist you for a successful and in compliance operational startup. Consolidation of all our service domains gives our clients a comprehensive set of expertise and far-reaching experience on each project.