Carmanah's i-SHELTER (TM) shelter lighting systems and i-STOP(TM) transit stops supply reliable, cost-effective transit lighting that can be installed quickly with no disruption to traffic."
Victoria, British Columbia, Canada - April 11, 2005 - Carmanah Technologies Inc. (TSX Venture: CMH) is pleased to announce that the Company has received contracts in the amount of $279,000 to supply four US transportation authorities and municipalities on the west coast with i-SHELTER (TM) solar LED shelter lighting systems and i-STOP TM solar LED transit stops.

According to the California Center for Innovative Transportation (CCIT), in any given year there are nearly 29,000 transit crime incidents reported in the United States, and because the majority of these crimes happen at night, illuminating transit shelters and stops works to discourage many of the common crimes associated with public transport.
"The safety of transit passengers is a primary concern for every member of the transit industry," states Art Aylesworth, Carmanah's CEO. "Carmanah's i-SHELTER (TM) shelter lighting systems and i-STOP(TM) transit stops supply reliable, cost-effective transit lighting that can be installed quickly with no disruption to traffic."
The first contract from Clark County Public Transportation Benefit Area
(C-TRAN) of Vancouver, Washington is for a minimum of 90 i-STOP (TM) solar LED transit stops. C-TRAN's 111 transit coaches and 50 paratransit coaches travel over 14,472 miles daily. The contract has been approved for up to $188,000 in orders over its one-year term. The additional contracts are with three cities within the metropolitan area of Los Angeles totaling $91,000 and comprising 25 i-SHELTER
(TM) shelter lighting systems and 30 i-STOP (TM) transit stops. These orders were part of larger initiatives to improve overall safety for transit users, and follow similar orders from transit agencies in close proximity such as Long Beach, L.A. County; El Monte, Lakewood and West Covina.
Carmanah's solar-powered illuminated bus stop products are currently installed with more than 80 transit authorities throughout North America and abroad. Carmanah's solar LED (light-emitting diode) transit lighting products have received wide recognition for their unique integrated design and outstanding performance. In fact, the Company's i-STOP (TM) transit stop received the 2004 Award for Innovation from the Canadian Urban Transit Association (CUTA). For more information about Carmanah's unique transit lighting solutions, please visit www.transitlights.com
About the i-STOP (TM)
The pole-mounted i-STOP (TM) solar LED transit stop was designed with passenger safety in mind and is activated via illuminated buttons to provide up to three types of transit stop illumination:
- an edge-lit schedule display that enables easy, convenient viewing of bus route information after dusk;
- an overhead security light that remains on for five minutes to provide a safer environment for waiting transit passengers;
- a patented flashing beacon designed to notify an oncoming bus that a passenger is waiting to board. This signaling device remains on for 60 seconds and is effective both day and night for reducing the incidence of rider pass-bys.
About the i-SHELTER (TM)
The i-SHELTER (TM) is a completely self-contained shelter lighting system that harnesses the sun's energy to power high-intensity LEDs. Each system is specifically designed to enhance the aesthetics of each shelter, rather than detract from them. The key benefits of the i-SHELTER (TM) are that it does not require any external electrical source, trenching, cabling, or power permits. It has also been designed to be maintenance-free for up to 5 years.
About Carmanah
Carmanah is an award-winning manufacturer of proprietary LED-based lighting and illumination products for the public transit, roadway, marine, aviation, industrial worksite, and illuminated signage markets. The Company has more than 110,000 solar-powered LED lighting installations and 50,000 LED-illuminated sign installations in 110 countries. The shares of Carmanah Technologies Corporation are publicly traded on the TSX Venture Exchange under the symbol "CMH" and on the Berlin and Frankfurt Stock Exchanges under the symbol "QCX". For more information, please visit www.carmanah.com
Featured Product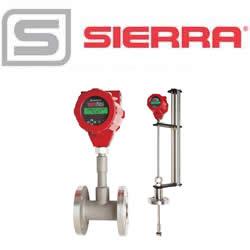 Sierra was the first to introduce a combination volumetric vortex and multivariable mass flow meter in 1997. Today, Sierra's completely redesigned InnovaMass® iSeries™ 240i/241i builds on two decades of success measuring five process variables for gas, liquid and steam with one connection. Now, with the latest hyper-fast microprocessors, robust software applications, field diagnostic and adjustment capability, and a new state-of-the-art flow calibration facility, Sierra's vortex iSeries delivers precision, performance, and application flexibility never before possible.