D1 Oils biodiesel land reclamation project launched in The Philippines by President Arroyo
D1 Oils plc ("D1 Oils"), the UK-based global low cost producer of biodiesel, today announced an agreement between D1 Oils Asia Pacific, Inc., a wholly owned subsidiary of D1 Oils, and Atlas Consolidated Mining and Development Corporation ("Atlas"), a leading Philippines mining and resource company. D1 Oils Asia

Pacific will collaborate with Atlas on a major project in the Philippines to rehabilitate land previously degraded by mining through the cultivation of jatropha, D1 Oils' feedstock of choice in the production of biodiesel.
President of the Philippines, Gloria Macapagal Arroyo, welcomed the mine rehabilitation project. The President demonstrated the Philippine Government's commitment to the project by planting the first seedling at the project site in Toledo, Cebu Province. President Arroyo also supports D1 Oils' plans to intercrop jatropha on coconut plantations in the Philippines to help meet the Government's targets for the use of biofuels.
The project will use bioremediation, a means of restoring soil that has suffered erosion and pollution in the mining process, by using jatropha to help replace lost nutrients.
Jatropha was chosen not only due to its restorative qualities but also, and more
importantly, because of its advantages as a biofuel feedstock. The first stage of the project is a five to seven hectare model farm and demonstration facility.
The ultimate objective is to plant jatropha on 7,000 hectares of degraded land to produce fuel for power generation for off-grid mining facilities.
"We see the mining industry as a key partner for D1 Oils. The need to restore degraded land around mines provides us with a great opportunity to demonstrate the potential of jatropha to rehabilitate land while producing a source of green energy for local communities." said Philip Wood, Chief Executive Officer of D1
Oils.
"Furthermore, the project will provide additional income and employment opportunities for the rural poor, especially women. The project will serve as a model for other mining remediation efforts throughout the world."
Enquiries
Philip Wood, D1 Oils plc
020 7321 3885
Graham Prince, Carbon International
020 7586 6641
Featured Product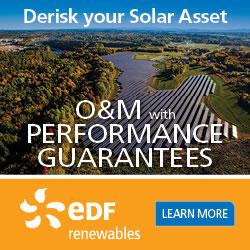 EDF Renewables offers the same innovative solutions that maximize the performance of our own 5.2 GW of installed projects. Because we're not an equipment manufacturer, our recommendations are transparent and data-driven. We cover the entire project lifecycle: from pre-commissioning support, through warranty and post warranty operation, to late stage and decommissioning.