Clean Air Festival to use Wind Power Donation from Selectpower will prevent over 2000 kg of Greenhouse Gas Emissions The City of GUelph's Clean Air Festival is scheduled for Wednesday June 8, 2005 and will be powered by wind energy.
FOR IMMEDIATE RELEASE

Clean Air Festival to use Wind Power
Donation from Selectpower will prevent over 2000 kg of Greenhouse Gas Emissions
June 1, 2005 GUELPH - The City's Clean Air Festival will get a gust of support from Selectpower. The festival is scheduled for Wednesday June 8, 2005 in the Old Quebec Street Mall downtown Guelph, and will be powered by wind energy.
"It wouldn't be a Clean Air Festival without wind power," stated Martin Lavictoire of the Environmental Services Department at the City of Guelph. "Selectpower has always been a supporter of this festival and other conservation initiatives with the City. There are a number of organizations lending their support to the festival and it couldn't happen without them."
In addition to the Festival's workshops on energy-efficiency, gardening, bike maintenance and alternative fuels, Selectpower is hoping to educate attendees about their energy choices, and how those choices affect our air quality, our health and our environment.
According to the Ontario Medical Association, air pollution will result in 1,900 premature deaths, 9,800 hospital admissions, 13,000 emergency room visits and 46 million illnesses and will cost Ontario citizens more than $1 billion a year.
Today, electricity generation causes about 24% of the smog pollutants and greenhouse gas emissions in Ontario. During the Clean Air Festival, over 6000 kWh of coal-generated electricity in Ontario's power grid will be displaced by Selectwind emission-free wind energy; donated by Selectpower.
"The facility will still be using power from the grid as usual," says Selectpower Marketing Manager Stacey Hare. "What we do is put enough wind energy into the grid to offset the amount that the facility takes out. Selectwind reduces greenhouse gas emissions and helps clean the air."
Using Selectwind to power the festival will prevent more than 2000 kg of Carbon Dioxide (CO2), 14 kg of Sulphur Dioxide (SO2) and 8 kg Nitrogen Oxide (NOx) from spewing into the air we breathe.
Selectpower is an affiliate of Guelph Hydro Inc. offering Energy-Smart Solutions including: Selectwind, Selectgas, Energy-STAR rated heating and cooling, geothermal and solar systems, draft-proofing, windows, water-saving toilets and fixtures, energy-saving lighting, water heaters, water softeners, gas and electric fireplaces and more.
Contact:
Stacey Hare, Marketing and Communications, Selectpower Inc.
519.780.1209 x 107
mobile: 519.830.0009
share@selectpower.ca
Martin Lavictoire, City of Guelph
519.822.1260 x2633
Martin.Lavictoire@guelph.ca
Featured Product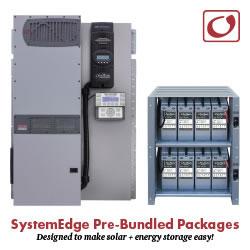 Each pre-bundled package is designed to make solar plus energy storage easy. By combining OutBack's most popular FLEXpower pre-wired systems with matched OutBack energy storage, SystemEdge takes the guesswork out of installing solar plus storage. Every SystemEdge package includes a FLEXpower factory pre-wired system, application-specific EnergyCell batteries and racking, FLEXware ICS Plus combiner and all the necessary connection hardware.