Magnetek, Inc. received Frost & Sullivan's 2005 "Solar Power Systems Technology Innovation of the Year" Award. Magnetek received the Award for its Aurora' solar power inverters, which Frost & Sullivan lauds as "an inverter solution that could revolutionize the solar energy market."
The Frost & Sullivan Award reinforces Magnetek's growing reputation as an alternative energy innovator. In May, Aurora received the INTEL DESIGN AWARD as one of the five best designs at INTEL 2005, an international electrical engineering, electronics, lighting, industrial automation, security and components show held biennially in Milan, Italy.

Designed for residential use, Aurora inverters change the direct current (Dc) produced by solar photovoltaic (PV) cells into utility-grade alternating current (Ac) and provide the power grid protection required by electric utilities on both sides of the Atlantic. Developed at Magnetek's European design center near Florence, Italy, the handsome, compact units feature the highest power density of any solar power inverters on the market today, and are easy to install anywhere inside or outside the home.
A key advantage that Aurora brings to market is its exceptional reliability, based on Magnetek's extensive experience in designing and building digital power products for applications such as telecom equipment and computer servers wherein reliability is paramount. Another major advantage is Aurora's unique ability to optimize, by means of two independent Maximum Power Point Tracking (MPPT) circuits, the amount of usable electricity harvested from solar panels under all ambient light conditions.
Frost & Sullivan technology analyst Vijay Murthy observes, "Despite establishing a blistering pace of technological development Magnetek is continuing to innovate rapidly. For instance, the company is currently developing mid-range products for alternative energy applications (10kW to 150kW) and high-end products for wind and photovoltaic applications up to 2.5 Megawatts (MW)."
Magnetek has launched a new website featuring Aurora and other advanced products for the alternative energy market, such as power interfaces for wind turbines and fuel cells. The site address is http://www.alternative-energies.com. Aurora inverters are available from a growing network of solar equipment distributors in the U.S.: http://www.alternative-energies.com/aeSalesDistributorsNA.htm.
Frost & Sullivan, a global growth consulting company, has been partnering with clients to support the development of innovative strategies for more than 40 years. The company serves an extensive clientele that includes Global 1000 companies, emerging companies, and the investment community by providing comprehensive industry coverage that reflects a unique global perspective and combines ongoing analysis of markets, technologies, econometrics, and demographics. For more information, visit www.frost.com.
Magnetek manufactures digital power supplies and digital-power-based systems used in applications requiring highly reliable, controllable, energy-efficient power. The Company operates manufacturing and research facilities worldwide and reported total revenue of $243 million for its 2004 fiscal year, which ended on June 30, 2004.
-30-
This news release contains forward-looking statements within the meaning of the Private Securities Litigation Reform Act of 1995, including statements about the Company's expectations regarding sales of and markets for its products for alternative energy sources such as photovoltaic, wind and fuel cell power conditioners and interfaces. These forward-looking statements are subject to a number of risks and uncertainties, many of which cannot be predicted or quantified by the Company and are beyond the Company's control. Future events and actual results may differ materially from those set forth in, contemplated by, or underlying these forward-looking statements. Other factors that could cause actual results to differ materially from expectations are described in the Company's reports filed with the Securities and Exchange Commission pursuant to the Securities Exchange Act of 1934.
Featured Product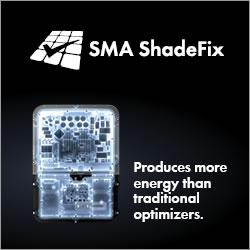 A recent university study showed SMA ShadeFix optimization produces more energy than traditional optimizers. It also utilizes far fewer components, reducing the need for costly service visits. Systems with ShadeFix optimization and SunSpec certified shutdown devices are the ideal solution for residential and commercial PV systems. Visit SMA's website to learn more and download the whitepaper.