The World Bank, the Clean Energy States Alliance have confirmed that will be organising the Sustainable Energy Finance Roundtable together with SEFI (the Sustainable Energy Finance Initiative) in New York on October 27th.
The urgent theme of the day will centre around reducing the perceived investment risks in sustainable energy and focus on best practices and the lessons learned from recent breakthrough initiatives.

Sessions will include corporate investment into sustainable energy, insitutional investment, public support mechanisms and environmental support mechanisms. Both OECD and developing countries will be covered.
For further information go to www.SEFI-Roundtable.org
or email Nadim.Chaudhry@greenpowerconferences.com
Featured Product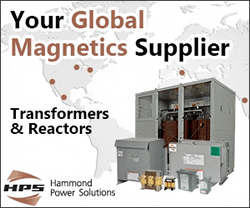 HPS is the largest manufacturer of dry-type transformers in North America. We engineer and manufacture a wide range of standard and custom transformers that are exported globally in electrical equipment and systems. We support solid industries such as oil and gas, mining, steel, waste and water treatment, and wind power generation. HPS leads the industry in these markets through its technical design strength, breadth of product, and manufacturing capabilities, making HPS a stronger company both fundamentally and financially.