The World Bank, the Clean Energy States Alliance have confirmed that will be organising the Sustainable Energy Finance Roundtable together with SEFI (the Sustainable Energy Finance Initiative) in New York on October 27th.
The urgent theme of the day will centre around reducing the perceived investment risks in sustainable energy and focus on best practices and the lessons learned from recent breakthrough initiatives.

Sessions will include corporate investment into sustainable energy, insitutional investment, public support mechanisms and environmental support mechanisms. Both OECD and developing countries will be covered.
For further information go to www.SEFI-Roundtable.org
or email Nadim.Chaudhry@greenpowerconferences.com
Featured Product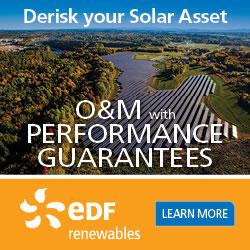 EDF Renewables offers the same innovative solutions that maximize the performance of our own 5.2 GW of installed projects. Because we're not an equipment manufacturer, our recommendations are transparent and data-driven. We cover the entire project lifecycle: from pre-commissioning support, through warranty and post warranty operation, to late stage and decommissioning.