Social Security Administration Solar Array is Largest Federal Installation in Chicago
CHICAGO (NOV. 9, 2005) - Today, Department of Energy (DOE) and Social Security Administration (SSA) officials dedicated the new solar array atop SSA's downtown Chicago office building at 600 West Madison.

SSA contracted with ComEd to complete downtown Chicago's largest federal solar energy installation, and one of the largest solar electric systems in the Midwest. Since September, this solar array has been powering the SSA building by generating 100kW of clean reliable electricity -- the equivalent energy to power more than 100 homes during the day.
"This solar power system is a great example of using renewable energy to carry out a vital government function," said Lt. Governor Pat Quinn. "We need to encourage everyone to invest in clean energy to save money and help the environment."
"The Social Security Administration is proud to be a leader in the country's movement toward green energy use. We are committed to energy efficient building design, construction and operation," said James F. Martin, Regional Commissioner for SSA in Region V.
"This project is helping our valued customer, the Social Security Administration, achieve important renewable energy and energy efficiency goals," said Frank Jiruska, ComEd's Vice President of Customer and Marketing Services. "This SSA solar project is one of many examples where ComEd is delivering on its environmental commitments and, in doing so, helping Chicago become one of the nation's leading green cities."
"This solar photovoltaic array delivers significant environmental savings for the SSA, enhances air quality in Chicago - and contributes to resource conservation nationwide," said PowerLight vice president Tom Leyden.
According to U.S. Environmental Protection Agency calculations, the solar panels atop SSA's building will displace more than four million pounds of greenhouse gas such as CO2 over its 30-year design life. This is equivalent to the CO2 absorbed by 20 acres of trees. The system also will save the equivalent of almost 6,000 barrels of oil.
ComEd, in conjunction with PowerLight Corporation - one of the nation's leading solar firms - is providing technical and environmental expertise to cover 7,920 square feet of roof space on SSA's building with photovoltaic (PV) modules, comprised of Sanyo HIT cells. These PV modules convert 18.5 percent of the solar energy captured into electrical energy - among the most efficient PV cells in mass production. ComEd and PowerLight also are using a specially designed PV tile system that offers roof shading and protection from ultraviolet rays, and thermal energy savings in winter.
Today's solar electric system dedication kicked off a one day meeting sponsored by the DOE's Million Solar Roofs Initiative and the Chicago Solar Partnership entitled "Solar Means Security - How Safe is Your Community?" The conference addresses the role of solar energy installations in powering emergency management and response operations, and will be attended by hundreds of mayors and municipal leaders from the Chicago metropolitan area.
For many years, ComEd has partnered with government, civic, and educational institutions to install nearly two megawatts of solar power in Chicago, distinguishing itself among all cities outside the Sun Belt.
As part of ComEd's ongoing partnership with the City of Chicago, Chicago Public Schools (CPS) facilities are being developed to meet Leadership in Energy and Environmental Design (LEED) requirements for green certification. ComEd is currently commissioning four new CPS schools to achieve LEED certification, and is also helping CPS reduce energy consumption by installing new building energy management systems.
###
Featured Product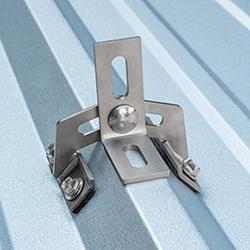 QuickBOLT Low Profile QuickBOLT with Microflashing™ is the industry's affordable, UL Certified Asphalt Shingle mounting system. The Microflashing™ is compressed by the collar on the bolt to create a water-tight seal. With an installation time of less than one minute, the Low Profile QuickBOLT allows installers to complete more jobs.