A new affordable housing complex for teachers and other public employees in San Jose, CA, recently completed a 17 kW solar system to power the common areas of the complex.
Los Gatos, CA - Villa Solera, or "sun house" in Spanish, is the name of a new affordable housing complex in San Jose that is clearly living up to its name. Akeena Solar recently completed a 17 kW solar system to power the common areas of this new housing complex. More information about this system can be found at

http://www.akeena.net/commercial_systems/residential_case_study_ca-sanjose.html
Affordability Key to JSM Enterprises
JSM, a development company based in Campbell, CA has focused on developing affordable housing for the past 8 years. They have constructed and now operate over 1,500 affordable housing units in San Jose. Villa Solera, the latest of these projects, is meant to house teachers and public employees. Paybacks on systems such as Villa Solera are typically in the four to seven year range.
"I was delighted with how smoothly the complicated task of installing the solar power system went with Akeena Solar," said Mark Ruebsamen, JSM project manager for Villa Solera. "We plan to include solar electric systems for similar projects in the future. This is not only a positive step for the environment and economy, but it's also a way to make housing more affordable for teachers the Bay Area."
Electricity Rates Skyrocketing Again
"California is woefully short of new power generating capacity, and our local utility once again will be raising rates in 2006. So people who are already experiencing high utility bills will be clobbered when the new rates goes into effect in January. But there is some very good news." said Barry Cinnamon, President of Akeena Solar.
"Farsighted businesses such as JSM Enterprises realize that they can help solve these problems for themselves by installing a solar electric system. We are proud to have partnered with JSM to provide even more affordable housing to local teachers and public employees in Silicon Valley," added Cinnamon.
Lower Costs for Teachers and Government Employees
With utility rates scheduled to jump again in January 2006, JSM's decision to include a solar electric system is particularly beneficial to the occupants of the complex: teachers and government employees. High energy prices are already a tremendous issue for many families. Solar electric customers can look forward to locked in electric rates of $0.11/Kwh for what they generate themselves on their roofs- instead of the $.031/kwh slated for next year's top tier residential rates.
About Akeena Solar
Akeena Solar has grown to become the largest national residential and commercial solar electric system installer in the U.S. (based on 2004 data from the California Energy Commission). Akeena's professional staff embodies decades of experience and provides customers with an unsurpassed combination of solar design expertise, financial analysis and quality installation. With offices in Fairfield, NJ and Los Gatos, CA, Akeena installs solar electric systems in California, New Jersey, New York, Pennsylvania and Connecticut. For more information, visit the Akeena Solar's web site at www.akeena.net. Akeena Solar employs four NABCEP Certified PV Installers.
Founded in 2001, Akeena Solar's philosophy is simple: we believe that producing clean electricity directly from the sun is the right thing to do for our environment and economy.
PHOTOS AVAILABLE UPON REQUEST
Featured Product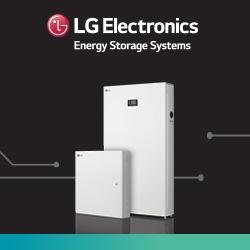 Meet LG Electronics Home 8 Energy Storage System (ESS), a whole home battery backup solution built with installers and their homeowner customers in mind. The ready-to-deploy Home 8 features just one SKU and a modular assembly for fast installation. It can be AC-coupled or solar-powered and is engineered with a grid-connected inverter, four battery modules, and a Smart Energy Box featuring a 7'' LCD touchscreen with commissioning wizard for easy setup. Each Home 8 unit can store up to 14.4 kWh of usable power, helping homeowners gain pure independence from the grid. Plus, installers can connect up to four units, bringing customers up to 57.6 kWh of total backup power-all easily managed and monitored through intuitive mobile apps.