Per-Tec Ltd, has developed a low-cost, easy to fit device to remove emissions of harmful particulate matter from diesel exhausts. This will allow a wide range of diesel vehicles into London's proposed low emissions zone, which seeks to diminish the dangers diesel fumes pose to public health.
The PowerTrap, Per-Tec's unique electrostatic diesel particulate reduction device, has been shown to remove between 90 to 99% of ultra-fine particles from diesel exhaust emissions. It is specifically designed for vans, trucks, buses, taxis, passenger cars and construction equipment. Its performance is consistent over the entire drive cycle, even from a cold engine start, proving its non-temperature dependence and making it perfect for urban driving.

Peter Kukla, Chairman and Managing Director of Per-Tec, commented: "The Power Trap's qualities make it ideal for the proposed low emission zone in London as it starts removing particulate matter from the minute you start the engine and operates fully in slow moving traffic even whilst waiting at traffic lights. Most other technologies rely on specific exhaust temperatures being attained which are largely impossible in the high-traffic, low-speed conditions of urban areas."
"Mayor Livingstone's approach is the right way forward. In order for his plan to work it requires highly flexible technology. Per-Tec has focused on this direct need and our new system exceeds the requirement. A lot of existing technology is too sensitive and is expensive for the OEMs to develop and optimise. Per-Tec's system simply replaces the existing silencer, so is easy to fit and achieves greater noise reduction as an added extra."
The consultation period for London's low emission zone began at the end of January and runs until April 24th. It aims to improve London's air quality by forcing operators of large diesel vehicles to clean up their fleets through reductions in particulate emissions. From 2008 charges of up to £200 per day will be levied on the heaviest diesel vehicles entering the zone. Fines of up to £1000 per day are proposed for vehicles failing to pay the charge.
Mayor of London Ken Livingstone said: "The proposed Low Emission Zone is the most effective way of reducing the most harmful vehicle emissions quickly and will make London one of the only cities in the world to have taken such a radical step to tackle air pollution."
"London suffers the worst air quality in the UK and amongst the worst in Europe. I want people living, working and visiting London to benefit from better air quality and to live longer and healthier lives."
Particulates, are one of the worst forms of air pollution, posing a serious risk to respiratory health, and are known to contribute to premature deaths through carrying carcinogenic compounds deep into the lungs causing respiratory problems as well as causing heart damage and worsening asthma.
In 2005, the Chartered Society of Physiotherapy analysed figures from 61 monitoring points across the UK showing that, in some spots, the concentration of particulates is actually getting worse and it has urged vehicle manufacturers to fit particulate filters as standard.
According to Defra estimates, the proposed low emission zone core scheme, focusing on PM10s, would bring health benefits worth between £130 and £180 million to the capital.
Although particulates can come from a variety of sources, exhaust emissions from diesel vehicles are the most common and prevalent source. The London Mayor's office estimates that air pollution causes 1,000 premature deaths every year with an equal number of hospital admissions, while many more Londoners suffer ill-health as a result.
To combat this, Mayor Livingstone has proposed introducing the low emission zone which would cover all 33 London boroughs. Under the proposals, from 2008 all diesel-engine lorries, coaches and buses over 7.5 tons would have to meet a minimum standard, known as Euro III for particulate emissions or pay a charge of up to £200 per day. From 2010, the more stringent Euro IV standards would apply.
Per-Tec's PowerTrap system already exceeds both the Euro III limits and the more stringent Euro IV standards introduced in 2005 as well as the proposed Euro V levels for particulate reductions.
The PowerTrap has already been fitted and tested on a variety of vehicles and fleets, including London Taxis, light commercial vehicles, buses and heavy duty vehicles, as well as emergency service vehicles, such as the Cheshire Fire Brigade's fleet.
It can simply replace the existing silencer in a conventional diesel exhaust, which allows for minimal installation and low cost, and performs a dual function of silencer and particulate removal. In addition, due to its design, the PowerTrap can never become blocked so therefore doesn't pose the same risks of high exhaust back pressure that a lot of systems can cause.
"Particulate matter is a serious danger to human health and we are pleased to be able to offer a simple solution to reducing this pollutant from the air," said Peter Kukla. "Many cities around Europe will follow London's example and introduce Low Emission Zones. Drivers will soon realise that it is far cheaper to fit one of our Power Traps once, than pay a hefty fine on a regular basis."
Per-Tec Limited
http://www.per-tec.com/
WHAT THE POWERTRAP OFFERS:
• The Per-Tec PowerTrap is effective from cold engine start, and heavily reduces Ultra Fine Particulate (independent tests have consistently demonstrated 99% plus) which is one of today's major health concerns.
• The PowerTrap cannot become blocked, and therefore no risk of major engine related problems due to high exhaust back pressure.
• The PowerTrap requires NO additives, plug-ins or other nuisance factors to the operator. It has its own systems check light mounted on the dashboard, a standard requirement for Euro 4 vehicles.
• The PowerTrap has a controlled regeneration process, whereby the collected waste particulate is burnt off in a controlled manner. The system's ECU is fully programmable for individual operator application needs, there's NO compromise on your the Customers part. The Per-Tec PowerTrap system is tuned to your needs.
• The PowerTrap is operated by Electrostatic principles whereby the exhaust particulate is charged and manipulated into a secondary more dense gas stream which is collected and periodically burnt off.
Notes to Editors:
The consultation period for the proposed London Low Emission Zone is open until April 24th. Under current proposals the zone would come into force in 2008. Further details can be obtained through http://www.london.gov.uk
Further details on the Euro III, Euro IV, and Euro V, standards can be found on the Europa website at http://europa.eu.int/comm
OEM = Original Equipment Manufacturer.
Press Enquiries:
Carbon International
David Hopkins:
T: +44 (0)20 7722 8427
E: david.hopkins@carboninternational.com
Tom Whitehouse
T: +44 (0)20 77229355
E: tom.whitehouse@carboninternational.com
Featured Product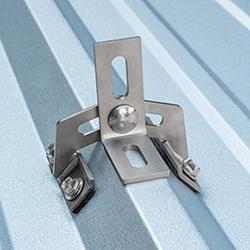 QuickBOLT Low Profile QuickBOLT with Microflashing™ is the industry's affordable, UL Certified Asphalt Shingle mounting system. The Microflashing™ is compressed by the collar on the bolt to create a water-tight seal. With an installation time of less than one minute, the Low Profile QuickBOLT allows installers to complete more jobs.