Evergreen Solar Introduces Spruce Line of Solar Panels 50% More Powerful Than Its Cedar Line
PRESS RELEASE

Contacts:
Chris Lawson
Director Marketing Communications
Evergreen Solar, Inc.
508-357-2221 X7214
clawson@evergreensolar.com
Media:
Dave McDermitt
Vice President
RDW Group, Inc.
617-235-5812
dmcdermitt@rdwgroup.com
Evergreen Solar Introduces Spruce Line of Solar Panels
50% More Powerful Than Its Cedar Line
Marlboro, Massachusetts, USA, April 21, 2006 - Evergreen Solar, Inc., a manufacturer of solar power products with its proprietary, low-cost String Ribbon' wafer technology, today introduced the Spruce Line' of photovoltaic panels. The new Spruce series are approximately 50% more powerful than the Company's Cedar Line' panels.
The Spruce Line includes 170W, 180W and 190W panels. With a sealed junction box, factory-installed electrical connectors and 1000-volt-rated backskin, these panels are ideal for grid-connected or larger off-grid applications.
The 190W model offers 12.7% module efficiency, a substantial increase from Cedar panels. The Spruce Line offers several other improvements that boost power rating and energy performance including higher packing density, anti-reflective-coated glass and higher-efficiency solar cells. The coated glass improves both rating at Standard Test Conditions as well as average field energy performance. As with the Cedar Line, Spruce panels have a white backskin for higher internal reflection and cooler operation.
Just like the Cedar Line, all Spruce panels are tested at Evergreen Solar's factory to a stringent -2% peak power (Pp) rating at Standard Test Conditions. Spruce products will have the following safety and quality certifications: IEC 61215 Edition 2, UL Class C Fire Rating, TÜV Safety Class II and CE.
Evergreen Solar panels use solar cells produced by the Company's String Ribbon manufacturing process. String Ribbon is substantially more efficient in the use of silicon than conventional sliced crystalline technologies.
About Evergreen Solar, Inc.
Evergreen Solar, Inc. develops, manufactures and markets solar power products using proprietary, low-cost manufacturing technologies. The Company's patented crystalline silicon technology, known as String Ribbon, uses significantly less silicon than conventional approaches. Evergreen's products provide reliable and environmentally clean electric power for residential and commercial applications globally. For more information about the Company, please visit www.evergreensolar.com.
Evergreen Solar® is a registered trademark and String Ribbon', Cedar Line' and Spruce Line' are trademarks of Evergreen Solar, Inc.
Featured Product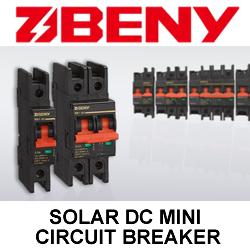 The BB1-63 modular miniature circuit-breakers can be used in solar DC circuits up to 1200 VDC (4-poles execution). Application in solar DC circuits, battery energy storage systems and UPS. Arc flash barrier design keeps solar equipment more safe and reliable. For DC circuit over-current protection.