RenewableEnergyStocks.com - Renewable Energy Companies Strive to Refine Strategies to Deliver Energy Efficiency and Green Technology Innovation
RenewableEnergyStocks.com - Renewable Energy Companies Strive to Refine Strategies to Deliver Energy Efficiency and Green Technology Innovation

Encore Clean Energy Inc., SunPower Corporation, Distributed Energy Systems Corporation, Alchemy Enterprises Ltd. and Honda Motor Co. Ltd. Provide Insight on the Future Energy Path
POINT ROBERTS, Wash., April 27, 2006 - www.RenewableEnergyStocks.com (RES) a leading investor and industry portal for the renewable energy sector presents "Refining Strategies to Deliver Energy Efficiency and Green Technology Innovation", a look at how the market is evolving in the US with respect to the impact of the Energy Policy Act of 2005. As companies strive to meet emerging demands, opportunities to change and diversify products and services present themselves. Encore Clean Energy Inc., SunPower Corporation, Distributed Energy Systems Corporation, Alchemy Enterprises Ltd. and Honda Motor Co. Ltd. give an indication as to where they stand in relation to capitalizing on the opportunities presented by the market.
Encore Clean Energy Inc. (OTCBB: ECLNE) company Director Larry Shultz has said that their company's product, the Magnetic Piston Generator is a, "heat recovery technology which converts waste heat into electricity. This technology, looking forward, is really the key to our thrust into the clean energy marketplace because what most people don't know is that for every mega watt of electricity generated in the United States, more than a mega watt of heat goes up in smoke, either up a smoke stack or through a cooling tower." Further he said that, "American industry is very inefficient where all of that heat is wasted. So what the MPG technology does is it converts that wasted heat into electricity whereby we can continue to harness up to 20% of that wasted energy."
According to Julie Blunden, Vice President of External Affairs for SunPower Corporation (NASDAQ: SPWR), "we think that SunPower's growth is a good example of how public policy is helping to drive capital investment as well as technology advances. Our investors and suppliers see that the solar power market is growing rapidly in the U.S. and around the world and have supported our growth to meet that demand. Within the next decade, solar will be at a price parity with retail electricity rates in much of the developed world, offering SunPower access to the trillion dollar global electric market."
Distributed Energy Systems Corporation (NASDAQ: DESC) President and Director Walter Schroeder says that, "innovators of energy sustainability fall into three distinct categories: manufacturers, developers or integrators." Further to this he reveals, "the states that are doing the most are California (who are way out ahead), New York and New Jersey. Connecticut and Massachusetts get honorable mention."
Commenting on the position of Alchemy Enterprises Ltd. (OTCBB: ACHM), Jonathan Read, President and CEO stated that, "as we are the producers of a power source, we're reliant on our customer to work with the states on end-user tax credits. We are actively working to position ourselves for Federal tax credits and or grants as it relates to alternative energy." Talking about government incentives, Read explains, "there are two tiers of state and Federal tax incentives. The first is for the producer of alternative energy technologies and the second tier involves provisions and tax incentives for end users (ie. motorists), which we would partner with once our technology is fully fleshed out and proven."
As the market grows, we are seeing companies such as Honda Motor Co. Ltd. (NYSE: HMC) expanding their range of services, with the launch of a compact household cogeneration unit, which combines "the world's smallest natural gas engine-with an efficiency configured, compact, lightweight power generation system employing Honda's unique sine-wave inverter technology to create a compact unit suitable for residential use, boasting an energy efficiency of 85%."
To Read "Refining Strategies to Deliver Energy Efficiency and Technology Innovation" in Full Click Here: http://www.renewableenergystocks.com/Articles/Renewables_Market.asp
For a growing list of renewable energy blogs please visit www.RenewableEnergyStocks.com.
www.RenewableEnergyStocks.com (RES), a portal within the InvestorIdeas.com content umbrella, does not make recommendations, but offers investors research, news and links to public companies within the renewable energy industry sector. RenewableEnergyStocks.com provides a variety of renewable and clean energy content through: Global Renewable Energy Insights, and Renewable Energy Blogs, all available at: http://www.renewableenergystocks.com
RES also includes one of the most comprehensive free renewable energy stock lists in the investment industry:
http://www.renewableenergystocks.com/Companies/RenewableEnergy/Stock_List.asp
Alchemy Enterprises, Ltd. (OTCBB: ACHM) and Encore Clean Energy, Inc. (OTCBB: ECLNE) are featured sponsors of the Renewableenergystocks.com portal and compensate the portal accordingly as disclosed below in disclaimer.
Priority membership: InvestorIdeas.com' investor and industry research resource portals, membership allows you to be at the top of our list to be the first to know what is happening in industry and sector trends. http://investorideas.com/membership/
InvestorIdeas.com Disclaimer: www.InvestorIdeas.com/About/Disclaimer.asp Our sites do not make recommendations, but offer information portals to research news, articles, stock lists and recent research. Nothing on our sites should be construed as an offer or solicitation to buy or sell products or securities. We attempt to research thoroughly, but we offer no guarantees as to the accuracy of information presented. All Information relating to featured companies is sourced from public documents and/ or the company and/or IR firm and is not the opinion of our web sites. These sites are currently compensated for by its "featured companies" Alchemy Enterprises Ltd (OTCBB: ACHM) five thousand dollars per month by third party IR firm, Crosscheck Capital. Encore Clean Energy, Inc. (OTCBB: ECLN), Three thousand five hundred dollars per month and two thousand equivalent in one forty-four shares.
For more information contact:
Dawn Van Zant 800.665.0411
Jennifer Lee 888.348.3033
Email: dvanzant@investorideas.com, or jlee@investorideas.com
Web Site: www.InvestorIdeas.com
Source: RenewableEnergyStocks.com, Encore Clean Energy Inc., SunPower Corporation, Distributed Energy Systems Corporation, Alchemy Enterprises Ltd. and Honda Motor Co. Ltd.
Featured Product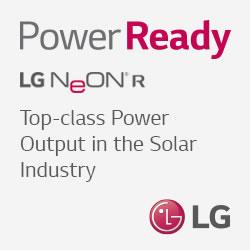 The NeON R module features "Back Contact" cell technology delivering an entirely black panel that is aesthetically pleasing and energy efficient. The cell's seamless, surface blends perfectly into nearly all rooftop designs while the module's electrodes are positioned on the rear of the cell. Using LG's N-type cell structure, the panels produce 365W of energy, up to 7.3kWp, compared to 5.8kWp of the p-type cell. The module's new design minimizes LID, thereby delivering a longer lifespan and increased energy output.