RenewableEnergyStocks.com Presents an Online Interview with Hydrogen Power International, Inc., a New Featured Renewable Energy and Environmental Company
Hydrogen Power International, Inc., Developer of Patented On-Site, On-Demand Hydrogen Power Production Technology, Discusses Market Drivers and Energy Solutions

RenewableEnergyStocks.com Presents an Online Interview with Hydrogen Power International, Inc., a New Featured Renewable Energy and Environmental Company
POINT ROBERTS, Wash., June 14, 2006 - www.RenewableEnergyStocks.com (RES) a leading investor and industry portal for the renewable energy sector presents Hydrogen Power International, Inc. (formerly Equitex, Inc.) (OTC.PK: EQTX), developer of patented on-site, on-demand hydrogen power production technology as a new featured company. As the nation focuses on reducing its dependence on foreign oil it has placed a priority on finding environmentally safe alternatives for meeting the growing demand and rising costs of energy making hydrogen power a viable solution.
As Ricky Gujral, CEO of Hydrogen Power, Inc. (HPI) describes, "There are tremendous drivers for this technology as there is demand from top down for a solution for the energy crisis we are facing and all indications are that this solution is going to come through hydrogen. We can and are producing hydrogen and the production of hydrogen is being integrated into specific applications and we are very close to commercializing our first product."
The Company's Hydrogen Now' system creates pure hydrogen from the reaction utilizing aluminum, whether raw or recycled, any type of water, and an environmentally friendly catalyst that produces no toxic byproduct. According to HPI, Hydrogen Now can be used to generate hydrogen on-site and on-demand without electricity thus overcoming significant transportation and storage problems that have challenged the industry for years.
According to Clean Edge Inc.'s research the global fuel cell and distributed hydrogen market is expected to grow from $1.2 billion in 2005 to approximately $15.1billion by 2015. Contributing to the global demand for renewable energy is China and India as a result of their economic development which has created a surge in energy demands. As Gujral explains, "The applications are tremendous for power and for alternative energy stemming from India and China and this demand is growing because of the increased public transportation requirements of these regions. In light of the growing global demand our applications are focusing initially on the automotive industry. We have successfully converted an internal combustion engine vehicle to run on hydrogen and our hydrogen technology. We are also participating in the Hydrogen Highway initiative to provide on-site refueling stations using our technology."
In addition to addressing the needs for cheaper, more efficient and more environmentally friendly fuel sources for the transportation industry, Hydrogen Power Inc is also developing applications for the consumer field to help power portable electronics such as cell phones, laptops, and PDAs. The Company is also collaborating with fuel cell companies on a technology that will use hydrogen as a portable power source for the future soldier providing a 30 watt system to the solider in the field.
With the ability to currently produce hydrogen power, the Company anticipates that their first product will be commercialized by the end of 2006.
To Listen to the Online Audio Interview with Hydrogen Power International Inc. Click Here:
http://www.renewableenergystocks.com/Audio/EQTX/0606/default.asp
For Additional Information on Hydrogen Power International, Inc. (OTC.PK: EQTX) Click Here: http://www.renewableenergystocks.com/CO/EQTX/Default.asp Hydrogen Power International is a featured portal sponsor and compensates accordingly as disclosed below in disclaimer.
Hydrogen Power International is also a featured company for the Green Tech Investor Contest - "Are you the Ultimate Green Tech Investor?"- www.GreenTechInvestor.com
www.RenewableEnergyStocks.com (RES), and www.EnvironmentStocks.com (ES), portals within the InvestorIdeas.com content umbrella, do not make recommendations, but offer investors research, news and links to public companies within the renewable energy industry sector. RenewableEnergyStocks.com provides a variety of renewable and clean energy content available at: http://www.renewableenergystocks.com or become a "Priority" member of the InvestorIdeas.com investor and industry research resource portals and be at the top of our list to be the first to know what is happening in industry and sector trends. http://investorideas.com/membership/
RES also includes one of the most comprehensive free renewable energy stock lists in the investment industry:
http://www.renewableenergystocks.com/Companies/RenewableEnergy/Stock_List.asp
InvestorIdeas.com Disclaimer: www.InvestorIdeas.com/About/Disclaimer.asp Our sites do not make recommendations, but offer information portals to research news, articles, stock lists and recent research. Nothing on our sites should be construed as an offer or solicitation to buy or sell products or securities. We attempt to research thoroughly, but we offer no guarantees as to the accuracy of information presented. All Information relating to featured companies is sourced from public documents and/ or the company and/or IR firm and is not the opinion of our web sites. These sites are currently compensated for by its "featured companies" Hydrogen Power International Inc. (OTC.PK: EQTX) Four thousand dollars per month, plus a one-time Five thousand dollars equivalent in 144 shares.
For more information contact:
Dawn Van Zant 800.665.0411
Ann-Marie Fleming 866.725.2554
Email: dvanzant@investorideas.com, or afleming@investorideas.com
Web Site: www.InvestorIdeas.com
Source: RenewableEnergyStocks.com, Hydrogen Power International
Featured Product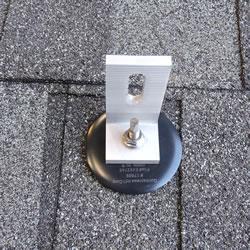 SolarRoofHook's Low Profile QuickBOLT with Microflashing™ is the industry's affordable, UL Certified Asphalt Shingle mounting system. The Microflashing™ is compressed by the collar on the bolt to create a water-tight seal. With an installation time of less than one minute, the Low Profile QuickBOLT allows installers to complete more jobs.