French award in power conversion category
ROSSENS, Switzerland - Maxwell Technologies, Inc. (Nasdaq: MXWL) announced today that it has won a prestigious 'Electron d'Or' award. Maxwell's MC2600 ultracapacitors were selected as the most innovative product of the previous twelve months in the category of power conversion.

The recipients of the Electron d'Or awards are chosen by a jury of industry experts, in conjunction with the editors of 'Electronique', the leading French electronics monthly magazine. This year is the ninth annual awards, and there are prizes in twelve categories.
"We are delighted to be recognized for the industry-leading performance of our ultracapacitors," said Alan Riedo, corporate senior vice president at Maxwell Technologies. "They exploit our proprietary improvements in ultracapacitor electrode composition, a mechanical design that closely matches the electrode with the cell package and the ability to minimize impurities introduced into the cell during manufacturing."
The MC2600 is a family of ultracapacitor cells and multicell modules aimed at transportation, automotive, telecoms and industrial applications, offering excellent performance and a lifetime of over 1 million cycles. It is available in two distinct types of ultracapacitors, the affordable Energy Line, and the high performance Power Line that provides the lowest possible internal resistance. This means an optimal solution can be chosen for virtually any application.
The 2600F cell is engineered for operation at 2.7 V rather than the typical 2.5 V. The BMOD2600-16 module combines six of the MC2600 cells to provide 16-V operation. The MC2600 achieves a power density of 10.4 kW/kg and an energy density of 5.6 Wh/kg.
BOOSTCAP ultracapacitors deliver up to 10 times the power and longevity of batteries, require no maintenance and operate reliably in extreme temperatures. In transportation applications, they efficiently recapture energy from braking for reuse in hybrid drive trains, reducing fuel consumption and emissions. They also provide compact, lightweight, "life-of-the vehicle" solutions to stabilize automotive power networks and power new, all-electric subsystems, such as drive-by-wire steering. In mission critical industrial applications, where backup power is critical for continued operation or a soft shutdown in the event of power interruptions, they provide reliable, cost-effective, maintenance-free energy storage. In wind turbine blade pitch and braking systems and other industrial applications, they provide a simple, solid state, highly reliable, solution to buffer short-term mismatches between the power available and the power required.
Maxwell is a leading developer and manufacturer of innovative, cost-effective energy storage and power delivery solutions. Our BOOSTCAP® ultracapacitor cells and multi-cell modules and POWERCACHE® backup power systems provide safe and reliable power solutions for applications in consumer and industrial electronics, transportation and telecommunications. Our CONDIS® high-voltage grading and coupling capacitors help to ensure the safety and reliability of electric utility infrastructure and other applications involving transport, distribution and measurement of high-voltage electrical energy. Our radiation-mitigated microelectronic products include power modules, memory modules and single board computers that incorporate powerful commercial silicon for superior performance and high reliability in aerospace applications. For more information, please visit our website: www.maxwell.com.
###
Contacts:
Media: Nick Daines, +44 (0)115 8412109; email: ndaines@insightmkt.com
Sales & Technical: Raphael Waeber, +41 79 750 3943, email: rwaeber@maxwell.com
Product images are available at: http://editor.maxwell.com/
Featured Product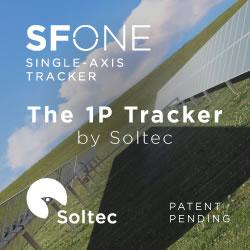 SFOne is the 1P single-axis tracker by Soltec. This tracker combines the mechanical simplicity with the extraordinary expertise of Soltec for more than 18 years. Specially designed for larger 72 an 78 cell modules, this tracker is self-powered thanks to its dedicated module, which results into a lower cost-operational power supply. The SFOne has a 5% less piles than standard competitor, what reduces a 75% the labor time.