H-E-B will offer E85 at 5 locations.
Jefferson City, MO - H-E-B, a 100 year old company offering food goods, will begin selling the clean burning alternative - E85 - at five locations throughout the Lonestar State. The stations are to be located along IH-35 and should open by the ened of August.

"We have deep Texas roots and an unwavering commitment to doing what's right for our customers, and they've made it clear they want an alternative to foreign oil," said James Aulds, Vice President of H-E-B Fuels. "Our customers will also appreciate the fact that E85 is less expensive and cleaner burning than traditional gasoline."
The stations will be strategically located along IH-35; placed close to fleet operations and U.S. Army's Fort Hood and Raldolph Air Force Base.
"We are pleased to see H-E-B as a provider for this renewable fuel," said Curtis Donaldson, Chairman of the National Ethanol Vehicle Coalition. "This is good for their business, good for Texas drivers and good for the environment. The NEVC has been working with H-E-B for several months and have established an excellent partnership. In fact, because of the growth of E85 fueling in Texas, the NEVC is upgrading our office phone system to be able to serve the needs of Spanish speaking E85 customers."
H-E-B has also announced that they will be organizing an educational and promotional campaign to inform their customers on the benefits of the clean burning alternative fuel.
H-E-B plans to make E85 available at the following locations in a couple short months:
H-E-B
17460 IH-35 North
Schertz, Texas 78154
(Exit 3009, NE corner of IH-35 and 3009)
H-E-B
500 Canyon Ridge Drive
Austin, Texas 78753
(IH-35 and Parmer at Tech Ridge)
H-E-B
2511 Trimmier Road, Suite 100
Killeen, Texas 76542
(Near gates of Fort Hood)
H-E-B Buda #477
15300 South IH-35
Buda, Texas 78610
(Southbound frontage of IH-35)
H-E-B
801 IH-35 North
Waco, Texas 76705
(IH-35 and 84)
According to Phillip Lampert, Executive Director of the NEVC, "The Alliance of Automobile Manufactures Association new alternative fuel web site, www.discoveralternatives.com, shows that there are more flexible fuel vehicles located in the state of Texas than any other state in the nation. For E85 to be a truly national form of alternative transportation fuel, it was critical for us to assist in this Texas effort. We are very pleased that H-E-B has joined the NEVC as a full member and partner in our efforts to advance E85."
Shortly, Texas will have seventeen stations in the state, a total up from one in January of 2006. For a complete listing, go to www.E85Fuel.com.
Featured Product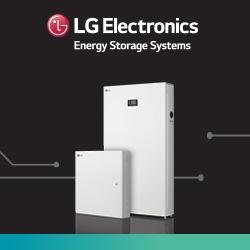 Meet LG Electronics Home 8 Energy Storage System (ESS), a whole home battery backup solution built with installers and their homeowner customers in mind. The ready-to-deploy Home 8 features just one SKU and a modular assembly for fast installation. It can be AC-coupled or solar-powered and is engineered with a grid-connected inverter, four battery modules, and a Smart Energy Box featuring a 7'' LCD touchscreen with commissioning wizard for easy setup. Each Home 8 unit can store up to 14.4 kWh of usable power, helping homeowners gain pure independence from the grid. Plus, installers can connect up to four units, bringing customers up to 57.6 kWh of total backup power-all easily managed and monitored through intuitive mobile apps.