Flawless Operation of Existing Pentadyne Units Spurs Leading Wisconsin Hospital to Order Three More Units
Chatsworth, Calif. - July 5, 2006 - Pentadyne Power Corporation (www.pentadyne.com), the world's leading commercial manufacturer of clean energy storage systems using advanced composite flywheel technology, announced today that Meriter Hospital (www.meriter.com) has ordered three additional Pentadyne VSS+DC flywheel systems to protect the hospital's sensitive medical diagnostic equipment from power outages.

The 448-bed non-profit healthcare facility in Madison, Wisconsin, ordered two Pentadyne systems late last year. The flywheel clean energy storage systems were interfaced with redundant UPS (uninterruptible power supply) systems to protect operation of the hospital's data centers in the event of a power disturbance. In this battery-parallel UPS configuration, the Pentadyne systems seamlessly provide continuous energy to the data centers in the event of short duration utility outages or other power disturbances. This protects the existing UPS batteries from all but longer-term outages, greatly increasing their reliability and reducing maintenance needs. In the event of a longer duration outage, the hospital's generators take over the load and rapidly recharge the flywheels in a matter of seconds, again avoiding use of the existing UPS batteries.
Two of the newly ordered Pentadyne VSS+DC systems will be integrated with a 375 kVA UPS system, and the third with a 75 kVA UPS. Both UPS systems and all three Pentadyne units will protect sensitive diagnostic imaging equipment from outage events. Unlike the hospital's data center application, this new UPS installation permits the hospital to declare freedom from the hazards, unpredictability and costly maintenance issues of battery-based energy storage. During a power outage, the Pentadyne systems will deliver conditioned, uninterrupted power to the imaging equipment until the hospital generators come online or the utility power returns.
"Finding a reliable, safe, cost-efficient way to protect critical loads here at Meriter is a high priority," said James Alt, Meriter's Director of Biomedical Engineering. "We carefully weighed all the alternatives. Pentadyne's clean energy storage systems are clearly the superior product to accomplish the high-level of power stability our facility requires."
The follow-on order came about prior to next week's opening of the American Hospital Association's (www.aha.org) trade show in Boston, Massachusetts, for the American Society of Healthcare Engineering (www.ashe.org), where Pentadyne is exhibiting its advanced carbon-fiber flywheel technology.
Pentadyne President & CEO Mark McGough noted that "The flawless performance of our systems at Meriter's data center supported their decision to select our products once again for this medical application. In addition to the growing adoption of our products in core markets ranging from data centers to homeland defense applications to television broadcast studios, we are gaining more and more traction in healthcare facilities. This will be a growing market for us based on our ability to deliver very affordable, reliable power continuity in a format that is extremely compact and temperature insensitive, two very important criteria for hospital applications."
Pentadyne to Show Flywheel System at ASHE Trade Show
At Pentadyne's booth #212 at the ASHE 43rd Annual Conference and Technical Exhibition July 10 and 11 in Boston, Massachusetts, the company is exhibiting a VSS+DC system as well as a demonstration model of the carbon-fiber-composite flywheel at the heart of the system that kinetically stores and releases energy.
About Pentadyne Power Corporation
Pentadyne designs, manufactures and markets clean energy storage systems using a high-strength advanced carbon-fiber flywheel to ensure power quality and continuity for mission-critical operations at industrial, commercial and military facilities in North America and abroad. Integrated into UPS systems -- with or without battery-based energy storage -- Pentadyne flywheel systems provide an economic, long-lasting, low maintenance, lightweight and environmentally sound back-up power solution without any hazardous chemicals or other safety concerns. The company is backed by leading venture capital groups and power industry leaders including Nth Power, Rustic Canyon Partners, DTE Energy, Energy InnovationsPortfolio, Electricité de France, Ben Rosen (co-founder of Sevin Rosen Funds and Chairman emeritus of Compaq Computer) and others. Pentadyne OEM systems are marketed by Emerson/Liebert (www.liebert.com) in North America and by Socomec (www.socomec.com) in Europe and Asia.
About Meriter Hospital
Meriter Hospital is a 448-bed non-profit community hospital that provides comprehensive health services for residents of southern Wisconsin and areas of northwest Illinois. It is a major teaching affiliate of the University of Wisconsin, and the fifth largest hospital in Wisconsin. Meriter Hospital has been recognized at Mastery level by the Wisconsin Forward Award in both 2004 and 2005. More than 1,100 physicians representing all specialties are members of the medical staff. The product of a merger between two hospitals in 1987, Meriter Hospital was built around a commitment to community service. Healthcare services are delivered through a Collaborative Practice Model across the healthcare continuum by partnering with physicians, clinics, emergency service providers and facilities. Key service lines include Medicine, Surgery, and Physical Medicine and Rehabilitation. Meriter recently opened a new Child and Adolescent Psychiatric Hospital, which is the only community-based program in south-central Wisconsin dedicated to meeting the unique needs of children and teens who require inpatient psychiatric care. In addition, Meriter distinguishes itself in its Cardiovascular Center of Excellence and its Women's Center of Excellence.
Featured Product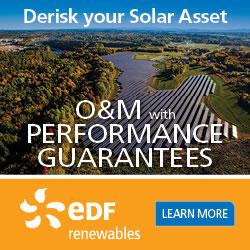 EDF Renewables offers the same innovative solutions that maximize the performance of our own 5.2 GW of installed projects. Because we're not an equipment manufacturer, our recommendations are transparent and data-driven. We cover the entire project lifecycle: from pre-commissioning support, through warranty and post warranty operation, to late stage and decommissioning.