ICP Solar Technologies Inc. have signed an agreement to begin supplying solar energy solutions to Tejas Solares of Spain. ICP is also opening its EMEA - PAC offices in Madrid, effective immediately.
Montreal, Canada, December 18, 2006 - ICP Solar Technologies Inc. (OTCBB: ICPR), a developer, manufacturer and marketer of solar cells and products, announced today that they have signed an agreement to begin supplying solar energy solutions worth up to €15 million annually to Tejas Solares, a leading residential solar system developer. To support their expansion in the Europe, Middle East, African and Asia-Pacific markets, ICP is opening its EMEA - PAC offices in Madrid, effective immediately.

Under the terms of the binding letter of intent, ICP Solar will provide a new kind of solar tile specifically designed for Spanish home models, currently under development, to Tejas Solares. In return, Tejas Solares will commit to using ICP's innovative solution in at least 2000 homes annually on the Spanish market.
ICP's new Madrid office, located at Avenida de La Vega 1, Edificio Veganova in Alcobendas, will support this and all other contracts for European, Middle Eastern and Asia-Pacific (EMEA-PAC) clients. Serving these strong solar markets, the Spanish office will be perfectly placed to bring ICP Solar's innovative designs to Consumer, OEM and Building Integrated Solar Materials channels throughout the region.
"Tejas Solares is constantly looking for innovative solutions to satisfy the demanding requirements of the Spanish real estate market with regards to solar energy. To accomplish this goal, we are partnering with ICP Solar Technologies," said Camilo Menendez, President of Tejas Solares. "Together, our two companies have a deep knowledge of both the real estate and solar arenas. This alliance will produce a unique offering in the marketplace, with emphasis on quality and innovation."
With nearly two decades experience in the solar industry, ICP has developed solar products to fit a wide variety of applications. RV, automotive and boating customers enjoy the cost-efficiency of solar power as their backup or main source for recreational needs. Equally, home customers have the choice of traditional solar panels or innovative solar tiles, which have the same ease of installation and aesthetic appeal of traditional tiles.
"ICP Solar has invested years of research into its proprietary solar rooftop solutions and is proud to announce this partnership with one of the leading residential solar system developers in Spain. Tejas Solares brings years of real estate development knowledge to our team, permitting us to adjust our technologies to suit the consumer and market requirements, as never before seen," said Manuel Gomez, Managing Director for EMEA-PAC, ICP Solar. "Our integrated solutions will provide customers with aesthetically-pleasing, easy-to-install solar roof systems which permit consumers to earn payback under the Spanish renewable energy laws more quickly than any other system on the market today."
About Tejas Solares
Tejas Solares is a Spain-based company focused on providing solar solutions for the real estate and construction business. Tejas Solares professionals and management team bring 20 years experience in the engineering, legal, banking and real estate businesses representing a unique offering. The current legal framework with regards to solar technologies and Tejas Solares real estate partners positions the company in a leading position in the Spanish solar marketplace.
About ICP Solar
ICP Solar is a developer, manufacturer and marketer of solar cells and solar cell based products and building materials. Through the application of next-generation technologies and use of proprietary intellectual design, the Company aims to be the industry's innovation leader. For the past 18 years ICP Solar has led the consumer market through innovation and has now begun to apply that same philosophy to the OEM, rooftop and power generation segments of the solar industry.
ICP Solar's management has over 50 years of experience in the solar energy sector. The company currently counts over 55 team members, with headquarters located in Montreal, Canada, and additional locations in the United Kingdom, Spain, USA, Ireland and France. Corporate information may be found at www.icpsolar.com
This press release contains forward-looking statements within the meaning of Section 27A of the Securities Act of 1933, as amended, and Section 21E of the Securities Exchange Act of 1934, as amended. The forward-looking statements herein include, but are not limited to, the expected expansion of our solar solutions into Europe Middle East, Asia and Africa. Our actual results may differ materially from those implied in these forward-looking statements as a result of many factors, including, but not limited to, overall industry environment, customer acceptance of our products, delay in the introduction of new products, further approvals of regulatory authorities, adverse court rulings, production and/or quality control problems, the denial, suspension or revocation of permits or licenses by regulatory or governmental authorities, termination or non-renewal of customer contracts, competitive pressures and general economic conditions, and our financial condition. These and other risks and uncertainties are described in more detail in our most recent SB-2 filing with the Securities and Exchange Commission. Forward-looking statements speak only as of the date they are made. We undertake no obligation to update or revise such statements to reflect new circumstances or unanticipated events as they occur, except as required by applicable laws, and you are urged to review and consider disclosures that we make in the reports that we file with the Securities and Exchange Commission that discuss other factors germane to our business.
Featured Product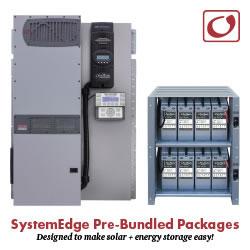 Each pre-bundled package is designed to make solar plus energy storage easy. By combining OutBack's most popular FLEXpower pre-wired systems with matched OutBack energy storage, SystemEdge takes the guesswork out of installing solar plus storage. Every SystemEdge package includes a FLEXpower factory pre-wired system, application-specific EnergyCell batteries and racking, FLEXware ICS Plus combiner and all the necessary connection hardware.