Agreement with Zephyr Corporation for Residential Scale Wind Turbine
Calgary, Alberta, Canada - February 20, 2007 - Sustainable Energy Technologies Ltd ("Sustainable Energy" or the "Company"- TSXV: "STG") will offer a new inverter to deliver power from small wind turbines to electricity grids at the same high efficiencies available to solar PV applications. Using proprietary technology, the new inverter will also have the capability to provide backup power during grid outages, and to connect hybrid systems incorporating both solar and wind energy.

The first product application will be for a residential scale wind turbine developed by Japan's Zephyr Corporation www.zephyreco.co.jp. The AIRDOLPHIN Mark-Zero is an ultra-quiet light-weight wind turbine which employs a number of innovative features unique to the industry that deliver lower operating costs and higher efficiencies than other small turbines and large megawatt scale turbines.
Sustainable Energy has agreed with Zephyr to adapt the Company's SUNERGY inverter platform for the AIRDOLPHIN turbine. The inverter incorporates recently developed proprietary software which enables it to operate in a grid interactive mode with very high efficiencies, and to switch to battery based mode for back up power during grid outages. Under its agreement with Zephyr, the Company has also acquired the right to bundle the AIRDOLPHIN with the new inverter product for distribution in Canada.
About Sustainable Energy
Based in Calgary Alberta, Sustainable Energy (www.sustainableenergy.com) develops manufactures and markets advanced power inverters for the renewable energy industry. Power inverters are strategic to the integration of new renewable energy technologies - solar and wind power, fuel cells, and energy storage systems - into the high quality power demands of the modern electrical grid.
Certain statements contained in this press release may be considered as forward-looking. Such forward-looking statements are subject to risks and uncertainties that could cause actual results to differ materially from estimated or implied results.
The TSX Venture Exchange does not accept responsibility for the adequacy or accuracy of this release.
Featured Product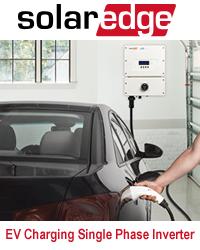 The SolarEdge PV inverter combines sophisticated digital control technology with efficient power conversion architecture to achieve superior solar power harvesting and best-in-class reliability. The fixed-voltage technology ensures the solar inverter is always working at its optimal input voltage over a wider range of string lengths and regardless of environmental conditions. A proprietary data monitoring receiver has been integrated into the inverter and aggregates the power optimizer performance data from each PV module. This data can be transmitted to the web and accessed via the SolarEdge Monitoring Portal for performance analysis, fault detection and troubleshooting of PV systems.