UK households are said to be responsible for a quarter of the UK's total carbon emissions and the Energy Performance Certificate is the Governments latest step in attempting to change house-holders' attitudes a greener home.
The Energy Performance Certificate (EPC) is just one part of the controversial proposed House Information Pack (HIP) plan. From June 2007 every house for sale will first need to complete an assessment for its carbon emissions and energy efficiency. Qualified Assessors will rate the properties on a rating scale of A-G and provide recommendations for improving the energy efficiency of the house and possible savings to be made.

Although unpopular with many groups, it was a decision that the Government was forced to make in order to come in line with the EU directive commencing in 2009. The directive states that all homes must be rated on energy efficiency every 10 years.
It is estimated that 7.1 million reports will be required each year in the UK and the government believes that anywhere between 1600 and 4500 assessors will initially be needed when the assessment becomes mandatory in June. Many groups are concerned that there will a be a considerable shortage of assessors when the initiative is introduced but The Director General of the Association of Home Information Providers, Mike Ockenden reassured them. "Of our 70 members polled we found that an adequate supply of assessors are currently in training and will qualify to undertake the EPC by June".
Although the EPC itself could cost homeowners up to £600, the government believes that it will increase public awareness regarding the running costs of UK homes. Furthermore, as consumer demands for greener houses becomes more prevalent house builders and developers will also need to introduce sustainable building practices.
However, it has been argued that the EPC requirement may deter sellers from putting their properties on the market speculatively, due to the costs. There are also concerns that poor energy ratings on many older homes may cause a pool of undesirable houses and drive the price of these houses down. In reality the certificate grade will be unlikely to affect buying decisions if people find a house to meet their needs and wants.
Richard Simmons, managing director of The Renewable Energy Centre and a property developer for over 30 years stated:
"There are valid points for and against the EPC's but I believe they are a positive move and highlight how important it is for homeowners to be pro-active, especially if they are planning to put their house on the market"
He continued "In order to help consumers make environmental improvements to their homes TheRenewableEnergyCentre.co.uk is an invaluable resource. It contains a fully comprehensive national & local directory of specialist products and suppliers in this arena. This is particularly useful for property owners when researching the options available to them in order to make informed decisions about home energy saving. Often only a few key areas such as loft insulation or draught proofing doors and windows need to be looked at before booking the assessment to ensure a good rating. The website also offers information on government grants and funding available to them for these types of improvements".
Although Home Information Packs are still under consideration and may be delayed further, the introduction of Energy Performance Certificates, are imminent. Whether for or against, homeowners, estate agents and environmentalists will soon see if the programme has the government's desired effect on the UK's carbon emissions.
More information can be found on the Home Information Packs (HIPS) and Energy Performance Certificate (EPC) at www.homeinformationpacks.gov.uk and www.hipassociation.co.uk.
---------------------- Ends ------------------------
About the Renewable Energy Centre:
www.therenewableenergycentre.co.uk
The Renewable Energy Centre: Saving Money, Saving Energy and Saving the Planet
The Renewable Energy Centre is committed to informing all online users about energy saving and renewable energy in order to:
• increase public awareness through accurate and informative resources
• create business opportunities throughout the UK through its' local and national directories.
For more information:
Contact: Tim Ovens (sales) or Angela Gallacher (press)
info@therenewableenergycentre.co.uk
1 Alpha House, Farmer Ward Road, Kenilworth, Warwickshire, CV8 2ED Tel: 01926 865835
Featured Product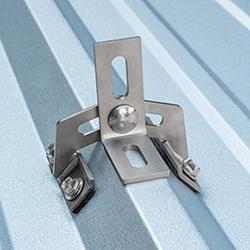 QuickBOLT Low Profile QuickBOLT with Microflashing™ is the industry's affordable, UL Certified Asphalt Shingle mounting system. The Microflashing™ is compressed by the collar on the bolt to create a water-tight seal. With an installation time of less than one minute, the Low Profile QuickBOLT allows installers to complete more jobs.