India launched a countrywide 5% EBP (Ethanol Blended Petrol) Program at Hyderabad in April 2007, which aims to improve energy security in the country.
Dr.YSR Reddy, Chief Minister of Andhra Pradesh, formally proclaimed the countrywide launch of 5% EBP (Ethanol Blended Petrol) Program at Hyderabad, as reported by Equity Bulls on April 5, 2007.

As part of its commitment to set up policies for enhancing energy security in the country, the UPA govt. has taken up this initiative. Launch of the EBP program is viewed as a remarkable step towards the use of alternative renewable, eco-friendly energy sources such as ethanol so that hydrocarbon resources can be supplemented in the country.
The interest of India in ethanol was manifested when the country embarked on three pilot projects. Of which one was launched during June 2001 in Uttar Pradesh and the other two were in Maharashtra during April same year. During 2002 a policy for ethanol was announced, which envisaged blending 5% ethanol (obtained through sugarcane) with petrol.
There're various proportions in which ethanol can be blended with petrol. Often, 5-10% of ethanol is mixed with petrol and this blend can drive most cars, without requiring any modification in their engines. In fact, percentage of ethanol can be augmented up to 24%.
India's spending on oil imports is currently somewhere around Rs 1600 Billion per year. Nearly 70% of oil demands are met by imports in the country. Considering the global spike in oil prices, India needs to put a cap on the huge imports of oil.
EPB program of the Petroleum & Natural Gas Ministry is primarily anchored in domestically produced ethanol - obtained through sugarcane molasses. The project will augment availability of fuel in the country plus help sugarcane-growing farmers get better returns. It will also help in saving some foreign exchange as well as ease up the impact of tensions in oil-producing regions on oil suppliers in India.
According to RNCOS report "Indian Biofuel Industry", "Production of ethanol in India is ranked as fourth largest in the world. A growth of 36.05% is expected in the ethanol with 5-10% blend by 2010 over 2006. The main reason behind this growth will be govt. initiatives that have mandated ethanol-blended petrol's use in all states towards the year 2010."
The report attempts to answer various questions critical to the success of Indian biofuel industry, for example, is the future of Biofuel industry bright in India, what will be the Biofuel demand scenario in India in 2010, are government policies in India favoring Biofuels industry, how big is the petroleum-based energy market in India, and so on.
About RNCOS E-Services Pvt Ltd.:
RNCOS, incorporated in the year 2002, is an industry research firm. It has a team of industry experts who analyze data collected from credible sources. They provide industry insights and analysis that helps corporations to take timely and accurate business decision in today's globally competitive environment.
For more information visit: http://www.rncos.com/Report/IM500.htm
Current Industry News: http://www.rncos.com/blog
Featured Product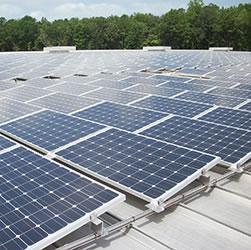 The Power Rail™ Commercial Mounting System is designed with the professional PV solar installer in mind. Both the XD/UD and LD/MD rails feature single tool assembly with the revolutionary patented RAD™ Lock-in-Place bolt for fast and secure module clamping. The high strength marine-grade aluminum rails include an integral wiring channel for securing cables and providing a professional finish.