China is working towards ensuring energy supply diversity, so that renewable sources of energy can be exploited for further advantage both economically and ecologically.
"China Energy Sector Analysis" - recent report published by RNCOS - has found that China aimed at reducing its dependence on oil and gas, in order to ensure supply diversity. As ensuring supply diversity will provide hordes of opportunities for renewable sources of energy.

Coal makes up around two-third of total energy demand in the country and propels 80% of its electricity generation. Despite an anticipated rise in China's share of renewable energy in future, coal will likely remain the major energy source in near-term. Looking at present scenario, consumption of coal will likely double during the period spanning 2001-2025.
With abundance of coal and immense potential for the development and exploration of natural gas and oil, respectively, China has always been self-dependent in meeting its energy demands, said Jia Qinglin - chairman for the National Committee of the Chinese People's Political Consultative Conference (CPPCC), as reported by CHINAdaily on April 25, 2007.
"Over 90 percent of China's energy demand is met through domestic supply," Jia went on to say that though the consumption of oil & gas is on rise in China, its per-capita import and per-capita consumption are still low. China's per-capita import of oil & gas is just 100 Kg, as compared to world average of 400 Kg, Jia added.
Currently, China is the 5th largest producer of crude oil and makes up around 4.9% of the total annual production of crude oil globally. Growing demand for oil in China has greatly surpassed its domestic production capabilities. During the early 1990s, the country became a net importer of oil and it's expected that, by the year 2030, China will have to import over 80% of it total oil consumption annually.
RNCOS report "China Energy Sector Analysis" notifies, "Owing to the considerable growth in demand, there has been significant spending in industrial production, which in turn led to substantial increase in the consumption of coal. Today, the energy structure in China heavily depends on the coal (i.e. 69%). Even though, energy efficiency through coal is quite low in China but it's still the most important source of energy mix in China, mainly due to its low-cost and resources availability. Energy market's growing demand depends largely upon the economic growth combined with diversifying energy-mix and supply security, govt. policies, environmental policies, etc."
Key issues and facts analyzed in this report include: China energy consumption by energy source, renewable energy sources are important for China, opportunities and challenges faced by China energy industry, and so on.
About RNCOS E-Services Pvt Ltd.:
RNCOS, incorporated in the year 2002, is an industry research firm. It has a team of industry experts who analyze data collected from credible sources. They provide industry insights and analysis that helps corporations to take timely and accurate business decision in today's globally competitive environment.
For more information visit: http://www.rncos.com/Report/IM501.htm
Current Industry News: http://www.rncos.com/blog
Featured Product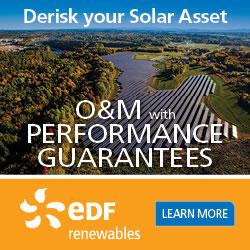 EDF Renewables offers the same innovative solutions that maximize the performance of our own 5.2 GW of installed projects. Because we're not an equipment manufacturer, our recommendations are transparent and data-driven. We cover the entire project lifecycle: from pre-commissioning support, through warranty and post warranty operation, to late stage and decommissioning.