World's Largest Online e-tailer Selects Cutting Edge Plug&Play' Solar Chargers
World's Largest Online e-tailer Selects Cutting Edge Plug&Play' Solar Chargers

Montreal, Canada, July, 5 2007 - ICP Solar Technologies Inc. (OTCBB: ICPR, FRANKFURT: K1U.F), a developer, manufacturer and marketer of solar cells and products, announced today that it has expanded its partnership with Amazon.com, the world's largest online retailer , by enlarging the range of Sunsei' Branded and Coleman® solar charger products available at Amazon.com.
"We spent the last six months helping Amazon to roll out a superior solar panel program, specifically designed and manufactured for Marine and RV enthusiasts. The partnership between Amazon.com and ICP Solar is longstanding ,and we are proud to say that they have selected us as partner for the 2007 season with a view to continued double digit growth in this exciting green category," said ICP Solar CEO and Chairman, Sass Peress.
This full line includes now more than 20 mobile solar chargers designed for outdoor enthusiasts to provide backup or primary power for vehicles such as automobiles, boats, RVs and also for remote back-up power applications with the highest level of quality and reliability in the market. All of the ICP Solar chargers come with Plug'n'Play' for quick connections, several adaptors for different applications and ICP Solar's superior customer service and warranty protection.
"We design solar experiences for our green customers and we want to make it simple and enjoyable", adds Laurent Lafite, ICP Solar's Vice President of Marketing and Global Strategy. "We want to embrace the outdoor experience into a completely peaceful one with the help of our advanced and attractive solar powered solutions. When you are reading a book on deck, or relaxing in friendly remote area, the last thing you want to hear is the generator or smell the smoke of a running motor to keep the batteries charged. The solar stories of our customers must be second to none".
About Amazon.com:
Amazon.com, Inc., (NASDAQ: AMZN), a Fortune 500 company based in Seattle, opened on the World Wide Web in July 1995 and today offers Earth's Biggest Selection. Amazon.com, Inc. seeks to be Earth's most customer-centric company, where customers can find and discover anything they might want to buy online, and endeavors to offer its customers the lowest possible prices. Amazon.com and other sellers offer millions of unique new, refurbished and used items in categories such as health and personal care, jewelry and watches, gourmet food, sports and outdoors, apparel and accessories, books, music, DVDs, electronics and office, toys and baby, and home and garden.
Amazon and its affiliates operate websites, including www.amazon.com, www.amazon.co.uk, www.amazon.de, www.amazon.co.jp, www.amazon.fr, www.amazon.ca, and www.joyo.com.
About ICP Solar Technologies, Inc.
ICP Solar is a developer, manufacturer and marketer of solar cells and solar cell based products and building materials. Through the application of next-generation technologies and use of proprietary intellectual design the Company aims to be the industry's innovation leader. For the past 19 years, ICP Solar has led the consumer market through innovation and has now begun to apply that same philosophy to the OEM, rooftop and power generation segments of the solar industry.
ICP Solar's management has over 50 years of experience in the solar energy sector. The company's headquarters are located in Montreal, Canada, and additional locations in the USA, Spain, Ireland and France. Corporate information may be found at www.icpsolar.com
The forward-looking statements herein include, but are not limited to, the expected expansion of our solar solutions into Europe Middle East, Asia and Africa. Our actual results may differ materially from those implied in these forward-looking statements as a result of many factors, including, but not limited to, overall industry environment, customer acceptance of our products, delay in the introduction of new products, further approvals of regulatory authorities, adverse court rulings, production and/or quality control problems, the denial, suspension or revocation of permits or licenses by regulatory or governmental authorities, termination or non-renewal of customer contracts, competitive pressures and general economic conditions, and our financial condition. These and other risks and uncertainties are described in more detail in our most recent SB-2 filing with the Securities and Exchange Commission. Forward-looking statements speak only as of the date they are made. We undertake no obligation to update or revise such statements to reflect new circumstances or unanticipated events as they occur, except as required by applicable laws, and you are urged to review and consider disclosures that we make in the reports that we file with the Securities and Exchange Commission that discuss other factors germane to our business.
Contacts:
ICP Solar Technologies Inc., 514-270-5770
Sass Peress, Chairman and CEO, speress@icpsolar.com
Laurent Lafite, Vice President Marketing&Global Strategy llafite@icpsolar.com
Featured Product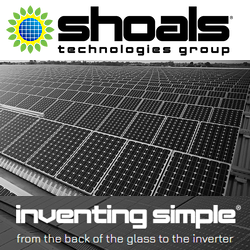 Inventing Simple® isn't just a slogan to us, it's a way of life. Using simple plug-and-play ideology, we revolutionized solar installations in 2003 with our Interconnect System™. Our harnessing system is now the gold standard EPC's use around the world. By using simple ideas, we are making solar energy a more affordable and clean power source for future generations.