Thin Film Solar Producer Receives Investment from New Enterprise Associates, Paladin Capital Group, Masdar Clean Tech Fund, Solúcar Energia and Morgan Stanley
Austin, Texas - August 16, 2007 - HelioVolt Corporation, a producer of highly-efficient thin film solar products, today announced it has closed $77 million in Series B financing. Paladin Capital Group and the Masdar Clean Tech Fund co-led the round with support from returning investor New Enterprise Associates as well as Solúcar Energia, Morgan Stanley Principal Investments, Sunton United Energy and

Yellowstone Capital. Funds will be used to build HelioVolt Corporation's first factory and bring Copper Indium Gallium Selenide (CIGS) thin film enabled solar products to market.
"CIGS thin film is emerging as one of the most exciting frontiers in cost-effective solar technology. We believe that HelioVolt has the technical understanding and market vision to achieve near term successes and deliver on long term potential," said Ken Pentimonti, principal at Paladin Capital Group. "Given the enormous promise of low-cost CIGS thin film, we are more than pleased to have a technology leader such as HelioVolt in our portfolio."
Nadim Barakat, Managing Director at Credit Suisse and the general partner of the Masdar Clean Tech Fund, added, "With significant market opportunities emerging across today's entire renewable energy sector, HelioVolt's proprietary FASST' manufacturing process represents the breakthrough that can establish solar energy as the most economical - and practical - choice for distributed electricity generation."
"Clean energy is a global need, and we are proud to have the support of a premier group of financial and market partners as we target those international markets," said B.J. Stanbery, Ph.D., CEO of HelioVolt. "This funding round marks the next step in our sustained path toward developing and delivering streamlined CIGS-based systems for both conventional solar modules and building integrated photovoltaic (BIPV) products."
Building off of founder and CEO Dr. B.J. Stanbery's experience with high-efficiency photovoltaics, HelioVolt is commercializing its FASST' process to manufacture CIGS, nature's most efficient photovoltaic material. Recently lauded as a 2006 Wall Street Journal Innovation of the Year and a Time Magazine Best Invention of 2006, HelioVolt's CIGS thin film technology is 100 times thinner, and 100 times more absorbent, than traditional silicon and 10 times faster to produce than alternative CIGS manufacturing methods.
About HelioVolt
HelioVolt Corporation was founded in 2001 in order to develop and market new technology for applying thin film photovoltaic coatings to a variety of substrates including conventional construction materials. The company's proprietary FASST' process, based on rapid semiconductor printing, was invented by HelioVolt founder Dr. Billy J. Stanbery, an eminent expert within the international PV community in the materials science of CIGS and related compound semiconductors. FASST' is a low-cost, flexible manufacturing process for CIGS synthesis and is protected by both nine issued US patents and by numerous global patents pending. For additional information, visit www.heliovolt.com.
About New Enterprise Associates
New Enterprise Associates (NEA) is a leading venture capital firm focused on helping entrepreneurs create and build major new enterprises that use technology to improve the way we live, work and play. Since its founding in 1978, the firm has followed the same core principles: supporting its entrepreneurs, providing an excellent return to its limited partners and practicing its profession with the highest standards and respect. NEA focuses on investments at all stages of a company's development, from seed-stage through IPO. With approximately $8.5 billion in committed capital, NEA's experienced management team has invested in over 550 companies, of which more than 160 have gone public and more than 230 have been acquired. NEA has US offices in Reston, Virginia, Menlo Park, California and Baltimore, Maryland. In addition, New Enterprise Associates (India) Pvt. Ltd. has an office in Bangalore, India and New Enterprise Associates (Beijing) Ltd. has offices in Beijing and Shanghai China. For additional information, visit www.nea.com.
About Paladin Capital Group
Headquartered in Washington D.C., Paladin Capital Group is a premier private equity firm that provides expansion capital for growing companies. Paladin has over $440 million under management and operates two funds with 27 portfolio companies. Paladin's Homeland Security Fund invests in enterprises whose principal business centers on products and services that address homeland security issues and needs. Importantly, the fund's leadership is comprised of individuals with a proven track record of financial expertise, national security experience and specialized technical competence. For more information, see www.paladincapgroup.com.
About the Masdar Clean Tech Fund
The Masdar Clean Tech Fund LP is made-up of commitments from the Abu Dhabi Future Energy Company, Credit Suisse, Cleantech International Limited as advised by Consensus Business Group, and Siemens Venture Capital. The fund will leverage Abu Dhabi's larger alternative energy initiative, known as the "Masdar Initiative" that was launched in March 2006. The Masdar Initiative is Abu Dhabi's landmark program to champion the development of advanced energy technologies and promote diversified and sustainable economic growth. The initiative is a multi-billion dollar comprehensive economic development program designed to leverage Abu Dhabi's considerable financial resources and energy expertise into innovative solutions for cleaner, more sustainable energy production and resource conservation. For more information, see http://www.masdarctf.com
About Solúcar Energia
Solúcar Energia is a wholly owned subsidiary of Abengoa , a technology company applying innovative solutions for sustainable development in the infrastructures, environment and energy sectors. It is present in more than seventy countries, where it operates with five Business Units: Solar, Bioenergy, Environmental Services, Information Technologies, and Industrial Engineering and Construction (www.abengoa.com).
About Morgan Stanley Principal Investments
Morgan Stanley Principal Investments is a Morgan Stanley capital investment vehicle. Morgan Stanley (NYSE:MS) is a leading global financial services firm providing a wide range of investment banking, securities, investment management, wealth management and credit services. The Firm's employees serve clients worldwide including corporations, governments, institutions and individuals from more than 600 offices in 31 countries. For further information about Morgan Stanley, please visit http://www.morganstanley.com/.
About Sunton United Energy, LLC
Sunton United Energy, LLC (Sunton) is a renewable energy venture capital firm that specializes in investing in companies that are on the forefront of developing the next generation of renewable energy products and technologies. Sunton partners with progressive companies that are developing products or services that produce energy from renewable resources in an environmentally friendly fashion. Sunton is headquartered in Salt Lake City, UT, and is staffed by principals and consultants with significant engineering, financial, and operational experience in a broad range of sectors within the energy industry. For more information, please visit www.suntonunited.com.
About Yellowstone Capital
Yellowstone Capital Partners LLC, is a Houston based private equity firm focused on the alternative and renewable energy sector through the venture capital fund -Yellowstone Energy Ventures L.P (YEV). YEV has been focused on the alternative and renewable energy space since mid 2004, and has made investments in more than 20 companies in the solar, fuel cell, wind, alternative fuel, nuclear and clean coal industries. In addition to its venture capital activities, Yellowstone Capital also has a buyout business and more than $100 million under management between its venture capital and buyout activities. Yellowstone's other industry focuses beyond alternative and renewables are manufacturing, traditional energy, the life sciences and branded food & beverage.
Featured Product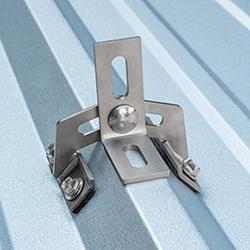 QuickBOLT Low Profile QuickBOLT with Microflashingâ"¢ is the industry's affordable, UL Certified Asphalt Shingle mounting system. The Microflashingâ"¢ is compressed by the collar on the bolt to create a water-tight seal. With an installation time of less than one minute, the Low Profile QuickBOLT allows installers to complete more jobs.