AmerenUE, Shaklee Corporation and Dozens of Others Partner With 3Degrees to Reduce the Magnitude of Climate Change
SOURCE: 3Degrees

Oct 10, 2007 03:25 ET
3Degrees Strengthens Position as Climate Solutions Leader
AmerenUE, Shaklee Corporation and Dozens of Others Partner With 3Degrees to Reduce the Magnitude of Climate Change
Dan Kalafatas, President and COO, 3DegreesSAN FRANCISCO, CA--(Marketwire - October 10, 2007) - Highlighted Links
3Degrees Products
3Degrees, a provider of high-quality climate solutions, today officially announced the spin-off and re-branding of the company, which formerly operated as a division of 3 Phases Energy Services, LLC. 3Degrees offers expertise in helping businesses limit carbon footprints by providing renewable energy certificates (RECs), verified emission reductions (VERs or carbon offsets) and utility green pricing programs. 3Degrees has helped dozens of global brands to participate in voluntary carbon markets as part of broader greenhouse gas (GHG) strategies and is a provider to 10 of the top 25 purchasers among EPA Green Power Partners.
3Degrees offers customers turn-key climate solutions that are globally sourced from more than 140 projects. Projects are selected through an in-depth due diligence process and are third-party verified against transparent multi-stakeholder standards. This process ensures that 3Degrees solutions represent real, enforceable and permanent GHG emission reductions. The company customizes solutions to meet its customers' business objectives and preferences for price, type, location of generation, GHG offset value and social co-benefits.
"3Degrees is in the business of helping companies reduce their carbon footprint. We strongly encourage our partners to first reduce their impact through energy efficiency projects, then to explore all renewable energy options, and finally, consider investing in carbon balancing projects to offset any remaining carbon emissions," said Dan Kalafatas, President and COO, 3Degrees. "Solving climate change requires companies to have broad climate change strategies that utilize all the tools available to them."
3Degrees is a reference to an increase of three degrees Celsius in the Earth's temperature, which a number of studies indicate may be a particularly dangerous threshold for climate change. The company is committed to reducing the magnitude of climate change and has established a new brand identity to reflect this including a new name, tagline, logo, messaging and website at www.3degreesinc.com.
Premium Customers and Suppliers
3Degrees has established itself as a market leader in climate solutions, working with companies such as NetJets, prAna, Shaklee Corporation, Starbucks and over 150 others. Last week, St. Louis-based AmerenUE launched Pure Power, a voluntary renewable energy program available to all 1.2 million customers in Missouri. 3Degrees has partnered with AmerenUE to manage the Pure Power program over the next five years. This experience across a variety of industries and company types enables 3Degrees to provide its customers with a high level of market insight and education on climate change strategies and well as a stable and premium supply of VERs and RECs.
The company sources RECs and VERs from select suppliers that adhere to the highest public verification protocols including the Clean Development Mechanism (CDM), the Gold Standard, Voluntary Carbon Standards (VCS), and California Climate Action Registry (CCAR). 3Degrees' RECs supply options include utility-scale wind, wood biomass, agricultural biomass, landfill gas, geothermal, biogas, eligible low-impact hydropower, distributed small wind and solar photovoltaic. The company's current VER supply comes largely from four project types: agricultural methane, international wind, coal mine methane and sustainable forestry. The supply sources are global, including Brazil, China, India, New Zealand, Mexico and the U.S.
In addition, some of the most successful utility green pricing programs in the U.S. are supported by 3Degrees. The company currently has 5 utility partnerships in operation averaging 9.1% participation rates, compared to a national average 1.5%. 3Degrees is also consulting with several additional utilities.
About 3Degrees
3Degrees has provided climate solutions to more than 150 U.S. and international business customers. Beginning in 2002, the 3Degrees team emerged as an early leader in the renewable energy marketing industry and has since set the standard for turn-key climate solutions. From voluntary reductions to understanding the regulatory market for renewable energy generation and greenhouse gas emissions, the 3Degrees team helps organizations chart a greenhouse gas strategy that fits business objectives and preferences. More information is available at http://www.3degreesinc.com.
For more information:
Sean Gibson
Bite Communications for 3Degrees
415-284-8209
sean.gibson@bitepr.com
Featured Product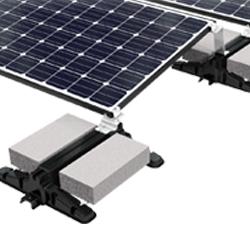 The Power Rail™ Commercial Mounting System is designed with the professional PV solar installer in mind. Both the XD/UD and LD/MD rails feature single tool assembly with the revolutionary patented RAD™ Lock-in-Place bolt for fast and secure module clamping. The high strength marine-grade aluminum rails include an integral wiring channel for securing cables and providing a professional finish.