Charge your electric and hybrid car battery for $10 and zap to Vegas. "Must See and Experience the Palm Trees and Oasis in the Mojave Desert"
For Immediate Release [Republishing Authorized] -- Mojave Desert, Southern California, USA -- December 18, 2007 -- Ecosystem Solar Electric Corp. (ESE) announced today that has sent an official notice to Nevada Power Company (NPC), informing this Investor-Owned Utility Company, among other business matters, of "Segment-1" commenced implementation.

Segment-1 -- A 154 mile, along Interstate 15 (I-15), the "Palm Tree Grid" with appurtenant 51 "Palm Oasis" mini-stations, at each off-ramp, fostering battery charging for electric and hybrid vehicles, beginning from Lenwood Road, Barstow, California and ending at St. Rose Pkwy and Las Vegas Boulevard, South, is already on the design table.
The CEO of Ecosystem Solar Electric Corp. has stated that "This is a historic day and year for the US citizens" and "Is time to leave that oil, at almost $100, to OPEC".
While, several electric and hybrid car manufacturers are already rolling out the "Green-Energy-Cars", the rest of the conglomerates will have no choice, but to follow and change the blue color assembly line to green.
To accommodate charging these green-energy-cars, the CEO from Ecosystem Solar Electric has further stated that "We have to implement everywhere the Palm Tree Grid with the appurtenant Palm Oasis mini-stations and the utility-scale merchant electric power generating plants, have to utilize more Renewable Energy sources in the multi-fuel mix, making the US more of a green and carbon-oil-free Nation".
Two designers from Ecosystem Solar Electric has conceived the proprietary prototype design for the Palm Tree Grid and for the Palm Oasis mini-stations, aimed to foster green-landscape visual appearance, having virtually no impairment of real properties value and at a substantially reduced construction cost, compared to conventional electric power transmission grids.
The Palm Tree Grid is comprised of steel-tube monopoles, reminiscent of palm trees (can hardly distinguish real palm tree from these pre-manufactured), carrying double-circuit conductors with high voltage direct current (HVDC), which are hung from insulators resembling coconuts.
The Palm Oasis mini-station is comprised of, same design, palm tree monopole, having ground mounted power reducing transformer with 30 pull-cables, fostering battery charging for electric and hybrid vehicles, at virtually same time it takes to fuel our vehicle with gasoline at a gas station.
About Ecosystem Solar Electric Corp. (ESE)
ESE is a brainstorming-conceiving-design company, based in Nevada and California, which entity has also conceived certain proprietary prototype designs for solar-thermal electric with storage, integrated multi-fuel combined cycle in synergy HRGS, utility-scale merchant power plants. Implementation of these designs has commenced by Solar MW Energy Inc. (SME).
Featured Product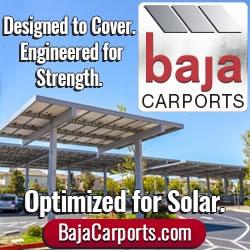 Baja Carports offers an extensive solar support system product line customized to customers' site specifications by in-house engineers, meeting their parking lot coverage, plus optimal PV production needs. Baja's Full Cantilever Tee is often paired with its Semi and Full Cantilever carports to meet live/loads up to 60psf and wind speeds to 160mph. All Baja products are pre-fabricated, bolted connections, pre-galvanized structural steel for fast on-site installation and project aesthetic requirements."