Winner to be named at the NHA Annual Hydrogen Conference in Sacramento
Washington, DC - March 17, 2008 - Today the Hydrogen Education Foundation announced five finalist teams for the 2007-2008 Hydrogen Student Design Contest: McMaster University, Missouri University of Science and Technology, University of Waterloo, and two teams from Wayne State University. The grand-prize winning team will be announced and present their design at the National Hydrogen Association's Annual Hydrogen Conference 2008 in Sacramento, CA on March 31 during the opening keynote session. Runner-up teams will receive honorable mentions and present their designs to attendees in the Conference Expo Hall.

For this year's Hydrogen Student Design Contest, "Hydrogen Applications for Airports," teams were challenged to use a budget of $3 Million to design the most effective airport hydrogen system that would address the three main challenges for airports today: noise, air pollution and groundwater contamination. Designs are based on the Columbia International Airport in Columbia, SC, but applicable to other airports worldwide. Overall, twenty-three teams registered from countries all over the world including:
Canada, China, Guinea, India, Lybia, Nigeria, the United Kingdom and the United States.
Elements of the top five designs include systems with waste-to-hydrogen production facilities, hydrogen-powered airport vehicles, back-up and portable power systems, hydrogen fueling stations, on-site production from natural gas, fuel cell power plants, as well as public education centers.
Representatives from all five finalist teams will attend the NHA Annual Hydrogen Conference, March 30 - April 3 in
Sacramento, CA to present their designs and receive awards during the Awards Luncheon on April 2. The awards will be presented by the Contest's title sponsor, the South Carolina Hydrogen and Fuel Cell Alliance, who helped develop this year's theme, as well as the U.S. Department of Energy, who served as a sponsor for the third consecutive year. The Contest was additionally made possible through sponsorship from Chevron, Natural Resources Canada, Sacramento Municipal Utility District, and American Wind Power and Hydrogen.
The Hydrogen Education Foundation is currently looking for sponsors and theme ideas for the 2008-2009 Hydrogen Student Design Contest, now in its fourth year. Although the Contest is traditionally focused on the design only, in past years grand-prize winning designs have attracted funding to actually construct the designs. If you are interested in supporting the next Hydrogen Student Design Contest, or would like to find out more about the designs from previous years, please visit www.HydrogenContest.org or contact Rex Hazelton at 202-223-5547.
To be present for the grand-prize team's presentation, awards and more at the NHA Annual Conference and Hydrogen Expo, please visit: www.HydrogenConference.org.
CONTACT:
Rex Hazelton, Hydrogen Education Foundation
hazeltonr@hydrogenassociation.org
202.223.5547 x322
About the National Hydrogen Association and the Hydrogen Education Foundation:
The National Hydrogen Association (NHA) is the Nation's premier hydrogen trade organization led by over 100 companies dedicated to supporting the transition to hydrogen. Efforts are focused on education and outreach, policy, safety and codes and standards. Since 1989, the NHA has served as a catalyst for information exchange and cooperative projects and continues to provide the setting for mutual support among industry, research and government organizations. The NHA Conference and Hydrogen Expo is the largest hydrogen conference in the U.S. and the longest running hydrogen conference in the world.
www.HydrogenAssociation.org
The Hydrogen Education Foundation is the charitable, education-focused arm of the NHA which administers two hallmark programs, the H2 & You outreach program and the Hydrogen Student Design Contest.
www.H2andYou.org
www.HydrogenContest.org
Featured Product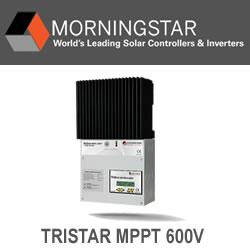 Morningstar's TriStar MPPT 600V charge controller leverages Morningstar's innovative TrakStar™ MPPT technology and our 20+ years of power electronics engineering excellence, to enable the widest input operating voltage range available from a solar array, wind turbine or hydro input. This controller's standard and DB versions are for off-grid applications, and the TR versions were developed to enable retrofitting grid-tied systems with battery backup.