Federal Environment Minister Peter Garrett has signaled a rethink of the solar panel rebate means test in response to industry claims of declining sales
Federal Environment Minister Peter Garrett has signaled a rethink of the solar panel rebate means test in response to industry claims of declining sales, but one of Australia's leading renewable energy companies says if the government is serious about supporting the solar market it should forget the rebate and instead introduce energy feed-in tariffs.

Mr Garrett has conceded that by denying households earning over $100,000 per year access to the $8000 solar rebate, the Australian solar photovoltaic market has suffered. He says a decision on the future of the means test will be evidence based.
"Let's monitor demand so that we have accurate figures … on the basis of accurate information we'll consider what the right action ought to be," Mr Garrett said.
But Markus Lambert, Marketing Manager of solar retailer Energy Matters, says that for the burgeoning solar photovoltaic industry to thrive in the long term, the government must implement a European-style feed-in tariff system, which over time continues to reward homes with rooftop solar panels for the energy they produce.
"German homes with solar PV arrays installed are paid a premium price for the total amount of energy each household produces. This enables people wanting to install domestic solar power systems to pay off their systems much faster."
"They have no need for a rebate because these homes earn above retail prices for selling power back to the grid," he said.
Several states around Australia have their own feed-in tariff schemes - Victoria pays the most: 60 cents per kilowatt hour - but the buy-back only applies to small systems (up to 2kW) for the net solar energy produced after normal household use, instead of the gross amount.
Mr Lambert says that while he welcomes any assistance to the solar industry, only a gross feed-in tariff scheme will have dramatic impact on the uptake of solar energy around the country.
"If a country like Germany - a country that receives half the annual sunshine that Australia does - can have a booming solar industry that employs hundreds of thousands of people and is approaching a 20 percent share of total energy produced from renewable energy, surely a feed-in tariff scheme makes sense if we are serious about fighting climate change and lowering greenhouse gas emissions in this country."
For more information please contact Energy Matters
+61 3 9697 1900
www.energymatters.com.au
Featured Product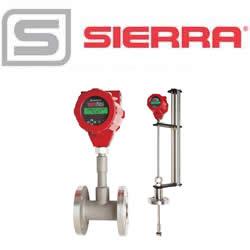 Sierra was the first to introduce a combination volumetric vortex and multivariable mass flow meter in 1997. Today, Sierra's completely redesigned InnovaMass® iSeries™ 240i/241i builds on two decades of success measuring five process variables for gas, liquid and steam with one connection. Now, with the latest hyper-fast microprocessors, robust software applications, field diagnostic and adjustment capability, and a new state-of-the-art flow calibration facility, Sierra's vortex iSeries delivers precision, performance, and application flexibility never before possible.