California Gov. Arnold Schwarzenegger made a surprise appearance in Miami on Thursday to praise his Florida counterpart's efforts to stop global climate change
California Gov. Arnold Schwarzenegger made a surprise appearance in Miami on Thursday to praise his Florida counterpart's efforts to stop global climate change. The California Governor said: " Politicians have been throwing around all kinds of ideas in response to the skyrocketing energy prices, from rethinking nuclear power to pushing biofuels and more renewables such as solar power and ending the ban on off-shore drilling, and it goes on and on the list,'' Schwarzenegger said.

Then he added: "Anyone who tells you this will bring down our petrol prices immediately and/or anytime soon is blowing smoke." He said he was referring to anyone who suggested that this might be quick and easy, ``America is so addicted to oil that it will take years to wean ourselves off from it. And to look for new ways to feed our addiction is not the answer,'' he said.
California leader talked about the many things his state was doing to increase renewable energy, make for more efficient vehicles and reduce the state's ``addiction to oil.''
He chastised the US Congress for not being more aggressive in demanding more fuel efficient cars. As it is, U.S. car mileage standards lag far behind Europe's. ''I want America to be No. 1'' in climate change programs, he said.
With an estimated 800 persons gathered at the Hotel InterContinental in downtown Miami, Miami Mayor Manny Diaz talked about how he was working hard to make for a green city where people can ``work, live and play all within walking distance.'' During his breakfast speech, he added, ''Think what we could accomplish if we had a partner in Washington.'' The Bush administration has consistently opposed bills to deal with global warming.
During an international panel, the most applause was received by Hermann Scheer, a member of the German parliament and longtime solar energy advocate. He began with a clever good news/bad news routine. "The bad news is oil is running out," he said and then. "The good news is oil is running out," he added.
The only option was to switch to renewables, he went on, pointing out that the sun produces 15,000 times the world's current daily energy needs. Despite its cloudy climate, Germany was leading the way in grid connect solar power, he said, with 4,000 MW of installed photovoltaic panels. It also produced 50% of the world's wind power. Scheer said the key to renewables was to guarantee access to the electric grid for all renewable energy producers and not to allow it to be blocked by conventional power companies. He said countries pushing renewables need to do three things:
* Guarantee access to the grid for any producer of renewable power, no matter how small the amount of power might be.
* Make guaranteed feed-in tariff payments to those providing renewable power.
* Don't cap the contributions of renewable power.
While Scheer received a standing ovation, the crowd of about 500, however, sat silently when Philippe Vinogradoff, the consul general of France in Miami, said his nation needed to retain ''the nuclear option,'' because nuclear was a key source of power in France.
Featured Product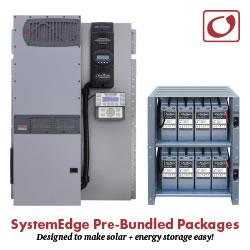 Each pre-bundled package is designed to make solar plus energy storage easy. By combining OutBack's most popular FLEXpower pre-wired systems with matched OutBack energy storage, SystemEdge takes the guesswork out of installing solar plus storage. Every SystemEdge package includes a FLEXpower factory pre-wired system, application-specific EnergyCell batteries and racking, FLEXware ICS Plus combiner and all the necessary connection hardware.