Continuing claims by some Australian business groups that are not prepared to step up to the challenge of creating a new lower emissions economy fail to examine the business advantage that a move to more sustainable energy use of energy delivers to Australia's economy.
The evidence is clear that a national emissions trading scheme will not wreck the economy but will create long-term good for the economy and the environment, according to the WA Sustainable Energy Association Inc. (WA SEA), the business chamber for the sustainable energy industry in WA.

"Claims by the Business Council of Australia that fixing climate change would be devastating for Australia's economy simply do not add up," says Dr Ray Wills, Chief Executive of WA SEA.
"Consider first
• Australia's GDP of more than $800 billion
• The Federal Government annual budget is over $200 billion. Within normal operations, the Federal Government is now rolling out $31 billion in tax cuts over several years;
• Last year $158 billion will be spent on new construction in Australia;
• The daily trade in shares on the ASX can be in the range of $10-15 billion in value; and
• This year we are told obesity cost us $57 billion in one year - another measure of unsustainable living."
"Compare this with:
• The carbon market in the first few years of operation will probably only have a total annual value of $3-4 billion, and less than $12-16 billion in the slightly longer term."
"The value of one day of trading on the Australian share market is more in dollar terms than would be traded in an entire year in an established carbon trading market. Compared to daily trades on the share market, carbon trading will be small change - on rough numbers the value of carbon trading will be much less than $20 million per day."
"The truth is the total value of carbon traded annually will be, in financial markets terms, very small. Indeed, as emissions reduce, the number is more likely to fall - unless we are ineffectual in rolling out energy efficiency across the nation, and fail to commit to quickly build renewable energy generation" says Dr Wills.
"And in addition to emissions trading, investment to reach a 20% renewable energy target by 2020 will require funds in the range of $25 to 35 billion over the next decade. At an average of $3 billion a year over 12 years, that's not a big number either - and will be an investment that will make a world of difference," adds Dr Wills.
"This is not to belittle the importance of the task of addressing climate change and designing the best possible emissions trading scheme to assist in the task of reducing greenhouse gas emissions without compromising our industries - it will be challenging. But 'not compromising' does not mean 'not inconveniencing' - we actually have to do as much as we can."
"A combination of a trading system, paired with direct incentives for industry to reduce emissions through both energy efficiency and procurement of lower emissions energy, will actually diversify the economy and create a more robust environment for business. Energy efficiency is a critical component as it will reduce inflationary pressures that would otherwise occur through spiraling fossil fuel prices" says Dr Wills.
"And the investments we are talking about won't be losses: investments in energy efficiency and renewable energy will deliver projects returning real profits in real operations with real jobs that deliver real, emissions-free energy, and help build a more efficient, more sustainable economy."
"We must fundamentally change the way we think about energy and how we do business. The numbers from the economic naysayers who are still planning an economy based on paradigms and activities of the last century that simply do not add up, nor do they provide the solutions needed for this century."
"The inconvenient truth is it is, economic reform is achievable - while we do not pretend it will be easy, or the same as it has always been, reform will not break the economy. A well designed emissions trading scheme with scientifically-based targets and strong support for our energy based industries to reposition their energy sources will create new opportunities in a more sustainable business environment," says Dr Wills.
WA Sustainable Energy Association Inc. (WA SEA) Media Release - 22 August 2008
Media Contact:
Dr Ray Wills 0430 365 607
Editors notes:
1. The Western Australian Sustainable Energy Association Inc. (WA SEA) is a chamber of businesses variously promoting, developing and/or adopting sustainable energy technologies and services that minimise the use of energy through sustainable energy practices and maximise the use of energy from sustainable sources. WA SEA is supported by a growing membership of 180 industry members from a diversity of businesses. www.wasea.com.au.
Featured Product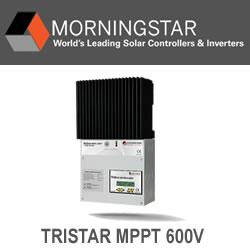 Morningstar's TriStar MPPT 600V charge controller leverages Morningstar's innovative TrakStar™ MPPT technology and our 20+ years of power electronics engineering excellence, to enable the widest input operating voltage range available from a solar array, wind turbine or hydro input. This controller's standard and DB versions are for off-grid applications, and the TR versions were developed to enable retrofitting grid-tied systems with battery backup.