It appears Australians in general and Western Australians in particular are hungry for sustainable energy outcomes according to new analysis released today by the WA Sustainable Energy Association Inc. (WA SEA).
WA's peak business lobby for the sustainable energy industries has made use of the research tool "Google Insights", available on the Google website, to develop a profile of demand for information on sustainable energy related topics.

The Google Insights tool shows the popularity for searching on a particular word or phrase - this is not a per capita measure but a raw measure of volume.
WA SEA reports that, looking globally, Australians consistently search more often for key word phrases such as "renewable energy", "sustainable energy", and climate related phrases like "global warming" and "sea level rise" than any other nation accessing the Google search engine.
Within Australia, WA SEA found that Western Australian's search for the phrases "sustainable energy" and "wave energy" more often than any other state of Australia, and WA ranked 3rd in searching for the phrase "renewable energy" after Northern Territory and Tasmania.
Perhaps surprisingly, Western Australians ranked first in all regions for "electric cars" but ranked only fourth across Australia searching on "V8 supercars".
Interestingly of all eight states and territories, Western Australia ranked lowest on other searches including "health" (7th), mental health (8th), "policing" (5th), and education (5th). While WA ranked sixth on the searches for the word "justice", WA ranked first for the phrase "social justice".
"Google provides a simple, independent and objective way to look at the subjects that are important in our lives, as defined by the words we use to search for information" says Dr Ray Wills, Chief Executive of WA SEA.
"It is a novel and arguably democratic guide to matters of interest or concern in different places, at least for the on-line community in each place. One reasonable conclusion is that Western Australians are searching for ways to ramp up use of WA's massive renewable energy resources," says Dr Wills.
"I suggest Google Insights provides further evidence at election time that Western Australians are looking for a substantial commitment for a more sustainable State," says Dr Wills.
WA Sustainable Energy Association Inc. (WA SEA) Media Release - 5 September 2008
Media Contact:
Dr Ray Wills +61 (0) 430 365 607
Editors notes:
1. Google Insights can be accessed via the Google website - http://www.google.com/insights/search/
2. Dr Ray Wills has had a wide-ranging career at different times as researcher, planner, adviser, manager and academic and has substantial expertise and experience across diverse fields including resources and energy, sustainability, and climate change science. Ray is recognised by business, government and community leaders in WA as an authoritative commentator on sustainability and policy and functional responses to mitigate and adapt to global warming. Ray is CEO of the WA Sustainable Energy Association Inc. (WASEA), the peak body for the sustainable energy industry in Western Australia, the Principal of Future Smart Strategies, an Adjunct Senior Research Fellow with the School of Earth and Geographical Sciences at the University of Western Australia, and a Fellow of the Australian Institute of Energy.
3. The Western Australian Sustainable Energy Association Inc. (WA SEA) is a chamber of businesses variously promoting, developing and/or adopting sustainable energy technologies and services that minimise the use of energy through sustainable energy practices and maximise the use of energy from sustainable sources. WA SEA is supported by a growing membership of 180 industry members from a diversity of businesses. www.wasea.com.au
Featured Product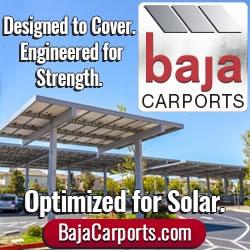 Baja Carports offers an extensive solar support system product line customized to customers' site specifications by in-house engineers, meeting their parking lot coverage, plus optimal PV production needs. Baja's Full Cantilever Tee is often paired with its Semi and Full Cantilever carports to meet live/loads up to 60psf and wind speeds to 160mph. All Baja products are pre-fabricated, bolted connections, pre-galvanized structural steel for fast on-site installation and project aesthetic requirements."