Sol IllumiBrite LED Fixtures are Lighting the Way for Solar and Conventional Applications.
Palm City, Fla., U.S.A. — Sol Inc. (Solar Outdoor Lighting), the world leader in Solar LED outdoor lighting, announced that its recently released energy efficient LED lighting fixtures were installed to light the National Flag Monument Plaza in Lima, Peru. The Sol LED luminaires were installed in time to brightly illuminate a patriotic celebration at the National Plaza, which attracted numerous visitors during Peru's recent national holiday.

EDELNOR, Peru's largest electric distribution company, selected the Sol LED 5Q cobrahead light fixtures to provide energy-efficient lighting, improved visibility and enhanced security for visitors to the Plaza.
"We are very satisfied with Sol's LED luminaires and their service," said Arnaldo Salazar Engineering and Works Manager for EDELNOR. "We've tried others, but Sol LED lights are the best in quality and light level."
Sol's ultra-efficient and ultra-bright LED luminaires were originally developed for use exclusively with Sol's solar powered lighting systems where power and high optical efficiency are required. Sol's customers requested Sol's luminaires be also offered for conventional and grid tie lighting applications. Sol's IllumiBrite LED luminaires are offered in models comparable to all standard HPS and LPS lighting fixtures.
"Sol's new LED lighting found a wonderful showcase in this important plaza." said Michael Sonnenfeldt, chairman of Sol Inc. "Sol's IllumiBrite LED lighting provides better color rendition and light pattern while consuming less energy and lasting over 50,000 hours for lower maintenance costs. EDELNOR recognized that the energy and maintenance savings make great financial sense."
About Sol Inc. - solarlighting.com
Sol is the world leader in solar LED outdoor lighting solutions with over 25,000 systems installed in more than 50 countries on six continents. Since 1990, Sol has introduced innovative, reliable and cost-effective solar lighting systems that provide unsurpassed levels of illumination and reliability. Sol develops, manufactures and markets commercial/industrial-grade solar powered and energy efficient lighting systems for a wide range of lighting applications including area and security, street and roadways, sign and billboards and transit and shelter lighting. Sol is ISO 9001:2000 certified and committed to superior design, manufacturing, and customer satisfaction.
Featured Product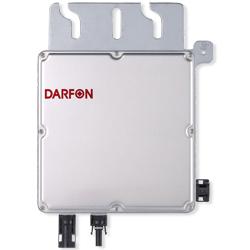 The Darfon G320 is the microinverter solution for today's high-power solar modules. The G320 handles 60- and 72-cell modules up to 350W DC and outputs up to 300W AC. The G320's 3-phase configuration accommodates the electrical distribution systems of most commercial buildings and to reduce, if not eliminate, the need for expensive transformers. The G320 comes in four voltage/phase configurations, so it can be installed in residential, commercial or utility applications.