The platform for energy of the future: renewable and efficient
The platform for energy of the future: renewable and efficient

Hungary is striving to provide a 20 % share of its electricity supply in the form of renewable energy by 2020. Due to its geographical location and natural features, the country offers attractive conditions for the use of alternative sources of energy. The potential in Hungary is estimated at 2665 to 2790 PJ per year, of which about 15 - 20 % is already available.
Biomass is regarded as one of the most important resources. The conditions for the production of biodiesel are very good, as the abundant areas currently available for growing oilseeds and the amount of used oil available represent large raw material resources. An increased use of wood as biomass can be observed in the course of technology development.
Solar energy: Hungary offers favourable natural conditions for the use of solar energy: approx. 1,900 - 2,200 hours of sunlight a year. Solar energy has been used mainly for producing hot water until now. The prospects for joint projects with foreign companies are outstanding. The government's Energy Action Programme provides for increased support of solar technology and solar systems are to be installed on 20,000 roofs by 2010.
Wind power: The government plans to increase the share of renewable energy from wind power to 15 to 18 % by 2020.
Geothermal energy / heat pumps: Hungary possesses one of the largest hydro-geothermal energy resources in Europe. The reservoirs are located approx. 400 to 3,000 m below the surface of the ground and have a temperature of between 30 and 100 C°. About 100 million mł a year reach the surface.
Hydropower: The potential power is 1,300 MW per year.
(Source: bfai - German Office for Foreign Trade)
Review of RENEXPO® Central Europe 2008
This year's "RENEXPO®" Central Europe attracted 81 exhibitors from 7 countries and 3,600 trade visitors attended the three-day event.
Key themes
The spectrum ranged from bioenergy, with particularly heavy investment in biogas, energy-efficient building, building renovation, heating with solar energy and wood to geothermics, heat pumps, hydropower and wind power.
Supported by the pavilion sponsored by the Federal Ministry of Economics and Technology (BMWi), the exhibition offers German companies an optimum platform for developing the market and expanding business relationships
Featured Product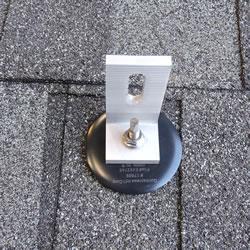 SolarRoofHook's Low Profile QuickBOLT with Microflashing™ is the industry's affordable, UL Certified Asphalt Shingle mounting system. The Microflashing™ is compressed by the collar on the bolt to create a water-tight seal. With an installation time of less than one minute, the Low Profile QuickBOLT allows installers to complete more jobs.