CEP CLEAN ENERGY POWER® enters the second round
CEP CLEAN ENERGY POWER® enters the second round

With the revision of the German Renewable Energy Law (EEG), renewable energies and energy efficiency are more important than ever. The climbing oil prices and the frequent reports of climatic disasters add fuel to the fire. All these are reasons to begin thinking about climate protection and acting accordingly. CEP - CLEAN ENERGY POWER® 2009 is the right platform to do just that. With the typical competence and comprehensive know-how in a wide range of areas, they are ready to inform you for the second time at the New Trade Fair Centre Stuttgart from January 29th - 31st, 2009.
The successful first event in March 2008 showed that the topics of renewable energy and energy efficient construction and renovation are more pressing than ever. About 10,000 visitors from around the World came inform themselves about the energy supply of the future. 220 exhibitors presented their products and innovations. Next year, the CEP - CLEAN ENERGY POWER® will begin on Thursday, in order to allow for more qualified visitors at the trade fair. Since the entire industry is continually growing, an increased number of exhibitors and visitors are expected. The state of Baden-Württemberg has made the trade fair an official state sponsored energy fair due to the special range of topics presented. "We have many exciting and new ideas that we want to integrate into the project to guarantee our exhibitors and visitors an interesting and informative visit to the trade fair", says Sandra Bayer Teixeira, project leader of the CEP - CLEAN ENERGY POWER®.
The continuous high-quality transfer of knowledge is largely due to the network that stands behind the CEP. Institutions such as the Society for the Promotion of Renewable Energies e.V. (FEE), the Steinbeis-Europa-Zentrum, the Promotion of European Passive Houses Project, the German Aerospace Center (DLR) and the Baden-Württemberg Ministries of Economics, Agriculture and Environment and Rural Development support the state energy trade fair not only in spirit, but also with informational input, increasing the quality of the event. Minister-President Günther H. Oettinger has again declared his official sponsorship.
At the CEP - CLEAN ENERGY POWER® 2009, visitors can inform themselves of the wide variety of renewable energy sources and energy efficiency in building construction and renovation. The spectrum of topics ranges from photovoltaic and solar thermal energy to geothermal energy, heat pumps, cogeneration, biomass, stirling, heating with wood and energy services. About a quarter of the floor space will go to covering the topic of passive houses, which is the trade fair's main theme. In cooperation with the independently founded initiative "Pro PassivHaus", an extra section of the trade fair will be dedicated to activities promoting passive houses.
Featured Product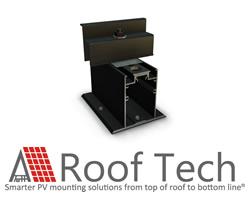 The most compact versatile rail-less PV mounting system under the sun. Instead of placing solar panels on top of long rails, simply attach E Mount AIR to rafters or the roof decking. Once panels are fastened to the roof, the system array is electrically bonded. The result is a visually seamless PV installation that stands the test of time. - Truly "One With The Roof". - PE stamped cert. letters available, UL 2703 Classified, ASTM 2140 fully waterproof. The one and only with integrated flexible flashing certified by the ICC! All the best quality. Only from Roof Tech