On Tuesday February 24, 2009, President Obama addressed the nation during a joint session of congress. The President discussed a new wave of energy efficiency programs and standards that will create new American jobs.
We will put Americans to work making our homes and buildings more efficient so that we can save billions of dollars on our energy bills. President Obama

On Monday March 9th, 2009, Bill Craddick - Deputy Director for the United States Department of Energy - Department of Energy Building Technologies Research & Integration Center addressed the HVACR industry about the new programs as they pertain to the HVACR industry. Mr. Craddick discussed the future green collar economy jobs while giving his keynote address at the 2009 HVAC Excellence National HVACR Educators & Trainer Conference in Las Vegas, NV.
Mr. Craddick began his presentation by stating the importance of skilled technical personnel in making the potential benefits of energy efficiency equipment a reality.
The President plans on investing billions of dollars into weatherization. Weatherization is the practice of modifying a building to reduce energy consumption and optimize energy efficiency.
The President is handing the HVACR industry a gift, those who decide to learn about the programs and adapt will be the winners in the Green Collar economy.
Many of the DOE's initiatives, partnerships, and current projects were discussed. Much of the DOE research is accomplished through the Oak Ridge National Laboratories (ORNL). ORNL is DOE's largest science and energy laboratory and is performing research and development across the energy sector in the areas of generation, distribution and consumption.
Buildings energy use is large and growing, it accounts for 72% of electrical consumption and 55% of natural gas consumption in the United States. Mr. Craddick said the mission of the Federal Energy Management Program is to reduce the cost and environmental impact of the Federal government, provide technical assistance to agencies applying advanced technologies in their energy projects (financed or direct-funded), and to create a Super Energy Savings Performance Contract program.
In the area of weatherization the DOE is working to develop audit programs, weatherization assistance development and maintenance, state evaluation assistance and lead-safe work practices.
Mr. Craddick stated that the Building Technologies Strategic Goal is Net Zero Energy Buildings. A Net Zero energy building has greatly reduced energy use (60% to 70% less) through efficiency gains, with the balance of energy needs supplied by renewable technologies. The Targets for Zero Energy Technology Market Available is Residential: ZEH by 2020 and Commercial ZEB by 2025. The HVAC & Water Heating Program Supporting Goal is to Develop equipment that has the potential to reduce HVAC/WH energy use by 50% (from Building America benchmark) in net ZEHs while providing indoor humidity control with no increase in net monthly costs for mortgage and utilities.
The Doe entered into a Cooperative Research and Development Agreement on High Efficiency Water Heating with GE in 2008. GE is targeted to introduce the Hybrid Electric Water Heater product to US market that meets Energy Star criteria in the Fourth Quarter of 2009. ORNL is also working with other strategic partners Climate Masters and Lennox to bring the Integrated Heat pump to market. The IHP will provide Space heating or cooling, Dedicated water heating, Dedicated dehumidification and/or humidification, and Ventilation air pre-treatment; H in winter, C & dehumidify in spring, summer & fall. These systems will provide energy savings of 45 to 55%. Prototypes were installed in ZEBR Alliance Houses in the winter of 2009 with sales expected to Begin in 2011.
Mr. Craddick stated he was "excited the conference was well attended, very well organized, and served to re-energize and improve the educational skills of those who attended".
The power point presentation from the United States Department of Energy can be downloaded by visiting http://www.hvacexcellence.org
Featured Product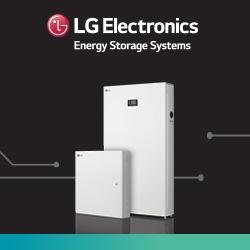 The NeON R module features "Back Contact" cell technology delivering an entirely black panel that is aesthetically pleasing and energy efficient. The cell's seamless, surface blends perfectly into nearly all rooftop designs while the module's electrodes are positioned on the rear of the cell. Using LG's N-type cell structure, the panels produce 365W of energy, up to 7.3kWp, compared to 5.8kWp of the p-type cell. The module's new design minimizes LID, thereby delivering a longer lifespan and increased energy output.