Clean Energy Expo Asia will partner the Energy Market Authority (EMA) in the Singapore International Energy Week (SIEW). The event brings together the gathering of top energy decision makers in the technology, services, finance and government sectors.
Clean Energy Expo Asia (CEEA), co-organised by Koelnmesse and the Sustainable Energy Association of Singapore (SEAS), has changed its dates from 16 - 18 September to 18 - 20 November 2009, as part of a strategic move, to join the Singapore International Energy Week (SIEW). It will now be held at Shangri-La Hotel together with SIEW. CEEA leverages on the strength of Koelnmesse's carbon market events in Europe, USA and Asia, and clean energy events in China to reach out to the international clean energy community.

Consisting of a trade fair and conference, CEEA provides a holistic and comprehensive platform for business and networking. It focuses on the key sectors of solar energy, energy efficiency, biomass and geothermal. The trade fair provides a unique platform for the sourcing and trading of clean energy technologies, services and financing. Participants at CEEA can look forward to a rich showcase of exciting, sustainable energy options already available or soon to be available to the public. Clean-tech start-ups, green architects and designers, green construction companies, sustainable product manufacturers, journals with an energy focus, large corporations with green initiatives are some of the showcases that will be available. That combined with a high quality conference programme, addresses the potential and latest issues of the clean energy sector in the region. The trade fair will be as broad and deep as possible in order to emphasize the huge number of innovative energy solutions that are within reach even today.
"The SIEW is a platform for policy makers, academics and industry players to exchange ideas on energy options and strategies for the future. For the second SIEW, we have decided on a theme centered on clean energy and sustainable solutions. We are therefore pleased to have Clean Energy Expo Asia on board as one of our key partners. With Koelnmesse's experience in organizing quality trade fairs and conferences, CEEA will further bring together the leading players in the areas of renewable energy, energy efficiency and sustainable development," said Mr Lawrence Wong, Chief Executive, Energy Market Authority.
With a population base of close to 600 million and a formidable combined economy, Southeast Asia's energy needs have been growing steadily over the years. In the last two decades, energy demand in the region grew by more than 4% per annum , amongst the fastest in the world. "The Asia Pacific region is experiencing rapid growth in the demand for energy and energy services to fuel its economic development. As a result, renewable energy sources and usage has become a key agenda for many countries. This creates enormous opportunities for industry players. Clean Energy Expo Asia helps to fill this need by creating a unique trading and knowledge-sharing platform for the clean energy industry in the Asia Pacific," said Mr Michael Dreyer, Vice President, Asia Pacific for Koelnmesse.
"Singapore's excellent infrastructure and business environment, and strong regulatory framework for finance and legal services make it an attractive location for this annual gathering of the clean energy community. The collaboration between Clean Energy Expo Asia and the Singapore International Energy Week means that energy decision makers in the region can now benefit from a more holistic and concentrated host of activities come November."
The collaboration creates multiple touch points where CEEA can support the national agenda. The Government has set up an Energy Efficiency Programme Office (E2PO) and developed a comprehensive national energy efficiency plan, reaching out to the power generation, industry, transport, building, and household sectors. This includes raising awareness in energy conservation measures, building capability in energy management, and harnessing R&D in energy efficiency technologies. In line with these plans, CEEA will showcase these technologies at the trade fair, and discuss the major drivers of energy efficiency in Asia, as well as models and case studies for energy efficiency in the areas of manufacturing, building and transportation at the conference.
Featured Product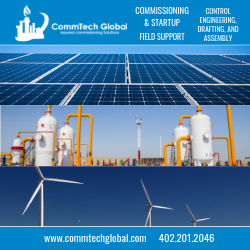 CommTech Global Solutions, LLC, provides professional and reliable commissioning services to customers in all realms of the energy industry. We blend our skills in engineering and technology with innovative business models, offering a complete range of services to assist you for a successful and in compliance operational startup. Consolidation of all our service domains gives our clients a comprehensive set of expertise and far-reaching experience on each project.